The Editor's Column
Posted by WhosPlayin

on 2015/4/26 22:53:59

(

75 reads

)
With thanks to our generous readers who have contributed donations this year, we have just finally been able to upgrade our website hosting to what we believe will be a much more reliable plan. For several hours while DNS changes get propagated and caches expire, readers may or may not be able to reach our site, depending on where you're coming from.

Hopefully at the moment, readers will not notice much of a difference. We expect there may be an issue or two over the next couple of days as we ensure that we have everything moved. We've been something like 6 years on the same old hosting plan, and we've used the same software since 2004 (with upgrades as we can, of course).

Please email editor@lewisvilletexan.com if you notice anything on the website that is not working.

In the next few months, we have other updates planned, or in the works, including:

- Upgrading the Content Management System that runs our website. We're looking at Joomla and Wordpress to see which would work better. The second phase of this would be porting our existing archive of articles over to the new system.

- Upgrading our police and fire radio to provide better streaming service, and compatibility with upcoming new digital service that LPD will switch to.

- Adding a cloud server for long-term media storage and file sharing.


Comments? - Rating: 0.00 (0 votes) -
Local News, Notes and Events
Posted by LewisvilleTexan

on 2015/4/26 10:20:00

(

424 reads

)
Early voting starts Monday in the May 9th, 2015 municipal elections. In Texas, every registered voter is encouraged to vote early for convenience, since voters can vote at any voting location in the county, and there are far more hours available. Voters who wait until election day face longer lines, and must vote in their specific precinct location.

Dates and Hours
Early voting is from Monday, April 27th - Tuesday, May 5th, with varying hours on each day:

- Monday, April 27th - Saturday, May 2nd: 8 a.m. - 5 p.m.
- Monday, May 4th - Tuesday, May 5th: 7 a.m. - 7 p.m.

Early Voting Locations
For the vast majority of Lewisville voters, you live in Denton County, and will vote at a Denton County location. For most Lewisville residents, the most convenient location will be the Lewisville Municipal Annex. For early voting, if you live in Denton County, you may vote in ANY Denton County polling location.


On The Ballot
Up for election for this year for Lewisville residents are two seats on the Lewisville Independent School District Board of Trustees, and the office of Mayor of Lewisville, and two Lewisville City Council Seats. (For coverage of Flower Mound Town Council elections, please see The Cross Timbers Gazette.) Please note that this year, The Lewisville Texan Journal did not conduct a candidate questionnaire due to time constraints, but we have provided links to the Dallas Morning News candidate questionnaires for each race, since they did a decent job on that this year. Candidates are listed in ballot order:

Lewisville ISD Board of Trustees - Place 1
For candidate questionnaires, please see the Dallas Morning News Voter Guide.


Lewisville ISD Board of Trustees - Place 2
For candidate questionnaires, please see the Dallas Morning News Voter Guide.


City of Lewisville - Mayor
For a discussion of these candidates and more background information, please read our article. For candidate questionnaires, see the Dallas Morning News Voter Guide. You may also wish to watch our video of a candidate forum.



City of Lewisville - City Council Place #2
For a discussion of these candidates and more background information, please read our article. For candidate questionnaires, see the Dallas Morning News Voter Guide.



City of Lewisville - City Council Place #5 (Unexpired term)
For candidate questionnaires, see the Dallas Morning News Voter Guide.



Read More... | 11958 bytes more | Comments? - Rating: 10.00 (1 vote) -
Local News, Notes and Events
Posted by WhosPlayin

on 2015/4/24 7:37:21

(

388 reads

)
By Steve Southwell

Overnight, Lewisville Lake continued to rise, crossing the 521 foot mark. As of 6:30 a.m., the level was at 521.12 feet, which puts the lake just about 10 1/2 inches below conservation pool, where the lake is considered full. Recent rains have raised the level of the lake nearly 3.5 feet this month. The last time Lewisville Lake was this full, was the last week of June, 2012. Lake Ray Roberts, which is upstream from Lewisville, and also feeds our municipal water source, has risen about a foot in the last week, to 629.8 feet, bringing it up to within 2.7 feet of full. Across the lakes feeding Dallas Water Utilities, the overall status is that the lakes are 85% full. Lewisville Lake is 95% full. At the current rate, and with more rain in the forecast, we expect Lewisville Lake to be full over the weekend. Once it passes the 522 foot mark, the US Army Corps of engineers may release water downstream in order to preserve the lake's remaining capacity for flood control. The top of the dam's spillway is at 532 feet, after which it flows uncontrolled. The last time it reached that level was July of 2007.

The latest drought report released on Thursday morning does show that Texas overall is in much better shape now than it had been, with 55% of the state not facing any drought. Most of Denton County was still listed as being in severe or moderate drought, but we expect to see that continue to improve as recent rains are figured into the next report. On April 8th, Governor Abbott renewed the disaster proclamation for exceptional drought; Denton, Dallas, Tarrant, and Collin counties were included.

As of yesterday, the DFW area had received 12.74 inches of rain so far this year, which was 2.29 inches more than normal. Last year by April 23rd, the area had only received 3.85 inches of rain. The area has had rainfall shortfalls for several years, which had caused local reservoirs to drop, and moved cities like Lewisville to enact stronger water conservation measures.

Lewisville does still have permanent twice-weekly Stage 1 watering restrictions, and a conservation regime that starts May 1st, and running through the end of September that restricts outdoor watering between 10 a.m. to 6 p.m. However, with the lakes getting filled prior to heading into the summer, the chances of getting into a Stage 2 or 3 situation are greatly reduced.


Read More... | 2 comments - Rating: 0.00 (0 votes) -
Local News, Notes and Events
Posted by Runfellow

on 2015/4/23 22:20:00

(

449 reads

)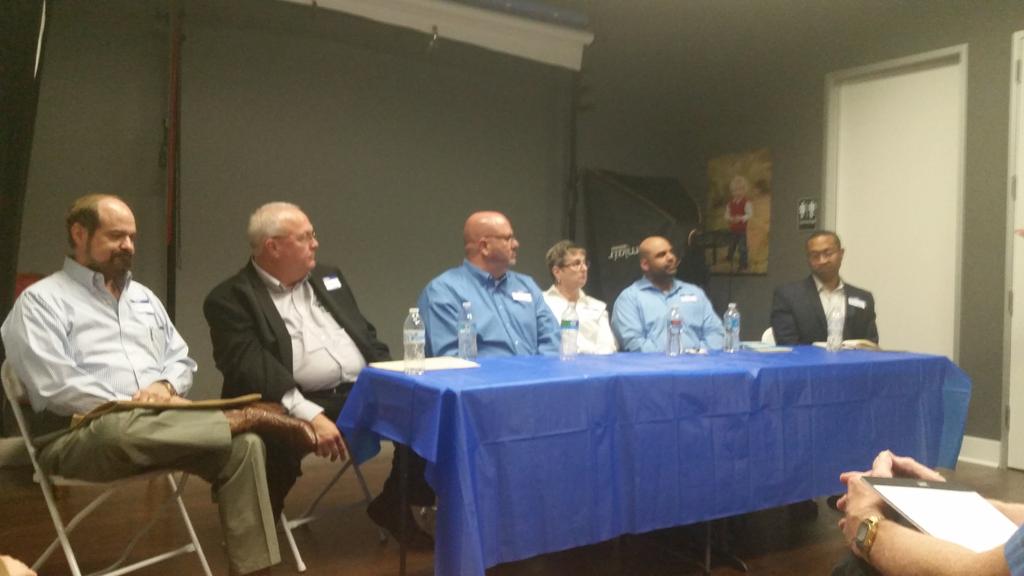 By Brandon Cooper

Candidates for Lewisville City Council attended a forum in Castle Hills Thursday evening. Organized by Castle Hills residents, issues addressed in the questions delivered to candidates ranged from those specifically related to the Extra-Territorial Jurisdiction (ETJ) to more general questions related to the direction of the city.

Participants included Councilman Neil Ferguson and Osman Paracha, running for place 2, as well as Brent Daniels and MaryEllen Miksa, competing for place 5. Two candidates for Mayor of Lewisville were also present at the beginning of the forum: Councilman Rudy Durham and Winston Edmondson. Near the end of the forum, Edmondson left to participate in a radio interview*; John Gorena arrived after attending another forum organized by the Denton County Conservative Coalition.

Much of the discussion during the evening focused on the issues surrounding the expansion of Camelot Landfill, which promises to negatively affect Lewisville and Carrollton. Both cities have focused efforts to oppose the expansion. Other issues addressed included the eventual annexation of the Castle Hills ETJ into Lewisville.

The Lewisville Texan Journal captured video of the event:


*Editor's note: Edmondson told the organizers in advance that he had a 9 p.m. radio interview, and would have to leave by 8:30. The previously received questions had all been asked at this point, and candidates were taking additional questions from the audience.
Read More... | 2299 bytes more | 6 comments - Rating: 8.00 (1 vote) -
Lewisville Area Calendar and Events
Posted by LewisvilleTexan

on 2015/4/23 22:00:00

(

532 reads

)
Those of you who have followed The Lewisville Texan Journal for a year or two know that keeping Lewisville clean and beautiful is one of our pet issues. For years now, we have fielded cleanup teams for Spring Cleanup. We hope you'll join us this year. Read on for the details on the cleanup, then join us again at the bottom to see how you can be on the LTJ cleanup team.


Keep Lewisville Beautiful is partnering with the City of Lewisville to host its 29th annual citywide cleanup on Saturday April 25th, 2015. An environmental expo will also be held onsite. This FREE Earth Day event will be held in conjunction with Keep America Beautiful Great America Clean Up activities. Volunteers are needed for cleanup teams and on site help. Sign in and registration begins at 8:00 a.m. at the Residential Convenience Center parking lot (330 Jones Street). Clean Up is from 9:00 a.m. -12:00 p.m. Clean up supplies, free lunch, KLB t-shirts, door prizes and FUN will be provided. Last year, 686 volunteers showed community spirit by working hard and picking up 9.8 tons of litter off of Lewisville streets, parks, and creeks. With your help, we can pick up even more and help beautify our great city. All ages are welcome! Register online today at the Keep Lewisville Beautiful website.

Current event donors and sponsors include: City of Lewisville, Waste Management, Republic Waste Services, Dale Downing CPA, DATCU, Texas New Mexico Power Company, Lone Star Storage, Bahama Bucks, Dallas Zoo, LLELA, Blue Bell, Hyena Comedy Club, Lewisville Lake Symphony, Texas Rangers Ball Club, La Hacienda Ranch, Spaghetti Warehouse, Joe's Crab Shack, Market Street, UTRWD, Lewisville Lions Club, Lewisville Police Department, Army Corps of Engineers, LISDOLA, Keep America Beautiful, and Keep Texas Beautiful. If your business would like to donate a door prize or help sponsor this event, please contact the KLB office.

For more information, to sign up or to donate funds to Keep Lewisville Beautiful email info@keeplewisvillebeautiful.org, call 972-538-5949 or fax information to 866-727-8526. Please include number of people anticipated in your group. T-shirts are on a first come, first served basis.

Read More... | 6792 bytes more | Comments? - Rating: 0.00 (0 votes) -
Local News, Notes and Events
Posted by LewisvilleTexan

on 2015/4/22 8:03:30

(

456 reads

)
ATM Theft Arrest
On April 17th at approximately 2:45 a.m., Lewisville police were dispatched to an alarm call at a convenience store located in the 800 block of South IH35. Upon arrival officers found the business broken into and the ATM had been taken.

A short time later, Lewisville Police were contacted by the Dallas Police. Dallas Police advised that they had located the stolen ATM and had a possible suspect in custody on unrelated charges. The suspect was interviewed and confessed to the offense. A warrant was obtained by Lewisville Detective B. Gibbins for Theft of Property under $200,000 - ATM, and placed on the suspect while in custody at Dallas County Sheriff's Department.

The suspect, Dennis Ray Conner, 27, is held in Denton County Jail in lieu of $50,000 bond.


Marijuana Grow Operation Raided
The Narcotics Unit received information that a marijuana grow operation was being operated inside a local apartment. On April 14th, the Special Operations Division executed a search warrant on the residence in the 300 block of E. Corporate Drive. Narcotics detectives conducted a search of the premises and seized the following:

- 48 Marijuana plants in various growth stages
- 6 firearms
- Marijuana bud and Marijuana cigarettes packaged for sale
- THC oil

The 36 year-old resident was arrested and charged with; Possession of Marijuana, over 4 ounces but less than 5 pounds, and Possession of a Substance in Penalty Group 2, over 4 grams, but less than 200 grams.

If you have any information regarding on-going narcotics activity please call the Lewisville Police Department at (972) 219-3620 or the TIPS line at (972) 219-TIPS (8477). Anyone with a cell phone may also send an anonymous tip by texting "TipLPD" and their message to 847411.

Snake Safety
Flower Mound Animal Services Supervisor Dax Gallaher shares knowledge on the kinds of snakes commonly found in the area, and what to do if residents encounter one.



Students can win scholarships at Chalk This Way festival
Lakeside Arts Foundation invites Lewisville ISD juniors and seniors planning to major in any arts-related field to participate in the Lewisville Morning Rotary Scholarship Art Contest at Chalk This Way to earn one of three possible scholarships. First place scholarship is $500, second place is $350 and third is $250.

Chalk This Way Sidewalk Art Festival will be held Saturday, May 9, outside the Medical Center of Lewisville Grand Theater, 100 N. Charles Street, from 9 a.m. to 6 p.m. In addition to the scholarship contest, this day-long event features a professional chalk artist exhibit, amateur chalk art contest, a children's non-competitive gallery, art vendors, food and drink vendors, musical entertainment, pet parade, and a silent auction hosted by Lewisville Morning Rotary Club.

There is no entry fee for the scholarship contest, but student artists are asked to submit their application and a sketched rendering of their planned work by May 1.

Scholarship winners will be announced at the awards ceremony at 4 p.m. during the festival. Details, rules and entry forms are available on the festival website at chalkthisway.org. For more information, contact Lakeside Arts Foundation at 972.625.1726 or email president@lakesidearts.org.


Energy program saves city more than $20,000
Texas New Mexico Power (TNMP) presented the City of Lewisville a ceremonial check at the City Council meeting Monday, April 20, representing the rebates the city has received so far through the CLEAResult energy program.

Lewisville has participated in TNMP's Energy Efficiency Incentive Program for cities since 2011, with the first project being lighting at the Medical Center of Lewisville Grand Theater. All projects focus either on lighting or HVAC improvements. Thirteen projects have been completed to date, and eight more are in progress.

The total estimated energy savings for all projects is 424,062 kwh/year, with total rebates from TNMP for projects so far at $21,882.

Councilman Leroy Vaughn was recognized by Mayor Dean Ueckert for his role in pushing sustainability and energy savings for the city.


Flower Mound Police provide safe area for conducting transactions; Lewisville PD says soon
The Flower Mound Police Department announced Tuesday that they have created a designated public area to conduct transactions initiated over the internet using sites like Craigslist and Facebook. The Flower Mound Police Department parking lot and front lobby at 4150 Kirkpatrick Lane in Flower Mound are well-lit and highly-visible areas under 24-hour video surveillance coverage. Two visitor parking spaces located near the front of the police building are designated with signage, signifying their purpose as an online transaction location.

Although FMPD says these areas are welcome to be used for online transactions, they ask citizens to exercise good judgment, as there is no guarantee to the legitimacy of any transaction. Here are their guidelines for utilizing the Flower Mound Police Department Lobby or parking lot:

- Transactions involving weapons, knifes, or firearms are prohibited.
- Please use the two marked visitor parking spaces near the front entrance of the Police Department.
- Do not block any reserved Emergency Vehicle or Handicap Parking Spaces.

We reached out to Lewisville Police Chief Russ Kerbow, who said that Lewisville PD also had a safe area planned. "We have identified some parking spaces on the Main St. side of the police department to create our "zone" and are awaiting a new camera to dedicate to it," said Kerbow. Kerbow said that he did not have a time frame for completion but that it "should be fairly soon".


Pizzeria in Highland Village hosts "Cheesecake for the Cure"
Grimaldi's Pizzeria, which serves hand-tossed, coal-fired brick oven pizzas, will host a Cheesecake for the Cure to benefit Susan G. Komen® North Texas starting April 27th at the Grimaldi's Pizzeria located at 1101 Shoal Creek. For every slice of cheesecake sold during the two-week promotion, Grimaldi's Pizzeria will donate 100% of the proceeds.

"Susan G. Komen North Texas is a critical organization in our community and is cherished by many of our team members whose lives have been touched by breast cancer," said Alex Valdez, General Manager of Highland Village Grimaldi's Pizzeria. "We are honored to host the 1st annual Cheesecake for the Cure and we hope that many people will join us in raising awareness and funding for such an important cause."

--------------
From submitted reports
Comments? - Rating: 0.00 (0 votes) -
Weather
Posted by LewisvilleTexan

on 2015/4/22 6:00:00

(

301 reads

)
Today in Lewisville, we have a 40% chance of showers or thunderstorms, mainly after 3 p.m. The high should reach about 78. Tonight, rain chances increase to about 60%, with some storms possibly severe.


Via the National Weather Service in Fort Worth:



Scattered to numerous strong to severe thunderstorms are expected to develop across central texas during the mid to late afternoon hours. Additional strong to severe storms will develop this evening north of Interstate 20. Before moving southeast across those areas primarily east of Interstate 35 and North of I-20 during the overnight hours.

Severe weather hazards will include very large hail, damaging winds, and frequent lightning. A few tornadoes are possible, especially with thunderstorms that remain discrete. Heavy rain and damaging winds will become the main threat overnight. As a severe storm complex moves southeast across areas mainly east of interstate 35 and north of Interstate 20. A localized Flash Flood thread may occur across these areas as well during the overnight hours.



Here is the video outlook for Wednesday - Friday (produced Tuesday afternoon):

Stay tuned to local media throughout the day for updates as the situation develops. We will provide updates here and via our Facebook page or Twitter as we get them.

Comments? - Rating: 0.00 (0 votes) -
Local News, Notes and Events
Posted by LewisvilleTexan

on 2015/4/21 23:08:37

(

201 reads

)
Synchronized swimming event - Hosted by Pirouettes of Texas at Westside Aquatic Center

The Pirouettes of Texas, the South Zone Junior Champions, will host synchronized swimming teams from across the state, all aiming to qualify for the AAU Junior Olympic National Championships. The event will be held April 25-26 at the Lewisville ISD Westside Aquatic Center, 1750 Duncan Lane.

More than 150 athletes from seven Texas teams will be vying for titles in solo, duet, team, and free combination events, with the top-three in each age group qualifying for JO Nationals, to be held this summer in Greensboro, North Carolina.

PTX recently returned from Moraga, California, where eight of their routines competed at the US National Championships – the most elite synchronized swimming competition in the United States. Facing the US's top club, collegiate and national team athletes, PTX placed seventh in combination team in the junior (15-18) division, 12th in team in the 13-15 division, and 12th in duet in the senior (15 and older) division, the highest placements of any Texas team in those events. Earlier this season, PTX won the junior high point trophy at the South Zone Championships in Huntersville, North Carolina.

Synchro is an Olympic sport that combines swimming, dance and gymnastics and requires a strength, agility, endurance, flexibility and speed. Accompanied by music, swimmers perform routines of elaborate stunts in the water without touching the bottom of the pool.

Established in 1985, PTX coaches all levels, from beginners to national champions. In its 30-year history, PTX has won nine South Zone Championships and produced finalists at Age Group Nationals, the AAU Junior Olympic Championships, US 13-15, Junior and Senior Nationals, US Masters Nationals and the US Open. Seven athletes who started out with PTX swam for US National teams – with three later moving on to compete for Team USA at the Olympic Games (2000, 2004 and 2012).
Comments? - Rating: 0.00 (0 votes) -
Local News, Notes and Events
Posted by LewisvilleTexan

on 2015/4/20 22:50:00

(

2144 reads

)
As you may recall from our story in November, a suspected car thief was being chased by Lewisville police when he pulled out a shotgun on police, and was then killed by police gunfire. Tonight at the Lewisville City Council meeting, Lewisville Police Chief Russ Kerbow awarded Officer Robert "Butch" Steinle with the Police Medal of Valor for his actions that day. Here is the citation:


Read More... | 2828 bytes more | Comments? - Rating: 0.00 (0 votes) -
Lewisville Area Calendar and Events
Posted by WhosPlayin

on 2015/4/20 7:40:00

(

405 reads

)
The colorful fun of the "Chalk This Way" free family festival returns to the heart of historic Old Town Lewisville for its 2015 event, to be held Saturday, May 9, in and around the city-owned Medical Center of Lewisville Grand Theater.

Festival hours will be from 9 a.m. to 6 p.m. Planned activities include professional chalk artists, amateur sidewalk chalk competitions, a children's gallery for on-site chalk creations, arts and crafts vendors, festival food, sidewalk games, and live entertainment. Entry to the festival is free, although participating in some activities will carry a nominal charge.

New to the festival this year is the Paws on Parade pet parade, presented by Lewisville Animal Services and starting at 11 a.m. Pet owners can show off their furry companions dressed in their most fashionable outfits during the two-block parade on Church Street. Participants can pre-register by contacting the Lewisville Animal Shelter, or register the day of the event at the Animal Services tent.

The fifth annual "Chalk This Way" is being held by Lakeside Arts Foundation in partnership with Greater Lewisville Arts Alliance, City of Lewisville, and Lewisville Convention and Visitors Bureau. Sponsors include Just Brakes, Credit Union of Texas, and Lewisville Morning Rotary Club.

Schedule of performances and events:

    9 a.m.:     Kim Bold                                             
    10:30 a.m.: The Septien Group                              
    11:00 a.m.: Paws on Parade           
    12:30 p.m.: Dynasty Dance Academy                     
    1 p.m.:     David Gallegos Band                            
    2:45 p.m.:  Chin Woo Dragon Lion Dance Group 
    4 p.m.:     Awards Ceremony 
Read More... | 3445 bytes more | Comments? - Rating: 0.00 (0 votes) -