Local News, Notes and Events
Posted by WhosPlayin

on 2015/2/15 19:26:00

(

1079 reads

)
Sunday morning about 10:24, Lewisville firefighters were dispatched to Huntington Circle Apartments at 409 W. Round Grove Road to fight a fire that had broken out in an upstairs apartment in Building 8. A caller reported hearing an explosion before the fire broke out. Smoke and flames were showing as Engine 163 showed up, so a second alarm was given. Units from Flower Mound and Coppell also showed up to help on the scene.

The power was quickly disconnected, and firefighters got water on the fire, reporting it knocked down by 10:35, and completely out by 10:44. The firefighters were able to get the fire knocked down before it could get into the attic and spread to any other units.

One firefighter was transported to Medical Center of Plano after he fell on his back while wearing an air pack. We learned that the firefighter had fallen from the truck and ended up with a fractured tailbone. The battalion chief on duty said that he was released from the hospital and is already back at the station.

A family of 9 that occupied the apartment could not be located immediately when firefighters arrived, so there was concern initially that there could be children in the unit. The fire department was able to reach the family by phone. The American Red Cross was assisting with temporary shelter and other needs for the displaced family.

Other residents of the building were evacuated during the fire. Only the one unit was damaged by fire. The outside of the building shows moderate damage, and other units may have suffered minor smoke or water damage, but the Chief said the last he had heard, the other residents would be able to stay, but might end up in hotels for a brief time until there could be some cleanup. We contacted the complex management to inquire, but have not yet heard back from them.

Comments? - Rating: 0.00 (0 votes) -
Weather
Posted by LewisvilleTexan

on 2015/2/14 13:10:00

(

260 reads

)
It's a gorgeous day Saturday in Lewisville, and a great time to go for a walk or take your dog to the dog park. Highs today will be in the mid 70s with southwest winds 5-10 mph. But big changes are in store for the coming week, with freezing temps on Sunday, and possible snow on Tuesday. Here are the updates from the National Weather Service:


A strong cold front will slowly move through the area from the northeast on Sunday. Clouds and showers will develop behind the front with afternoon temperatures only in the 40s and 50s. Ahead of the front, high temperatures will be around 70 degrees. Temperatures will get colder over the entire area Sunday night with rain becoming widespread. Temperatures should fall below freezing in northern areas, which means freezing rain would result in light icing of elevated surfaces across the shaded area. There are currently no indications that this will be a significant winter storm event in Texas, but conditions will be worse farther north and east across Oklahoma and Arkansas where the air will be colder.

As the main upper level disturbance moves through the southern Plains early Tuesday...some light snow will be possible across much of North Texas. It's still a little too early to determine exact locations and amounts but surface temperatures are expected near or slightly above freezing. This should limit any accumulations during the morning hours. At this time...no significant impacts are expected across North Texas.
Comments? - Rating: 0.00 (0 votes) -
Local News, Notes and Events
Posted by WhosPlayin

on 2015/2/14 11:10:00

(

257 reads

)
The Dallas-Fort Worth area has long failed to meet national air quality standards, due mostly to pollution from vehicles. For a limited time, a program that has helped lead to the replacement of more than 30,000 older vehicles since 2002, has free money to help citizens with cars that can't pass emissions tests to upgrade to newer vehicles.

ARLINGTON - The AirCheckTexas "Drive a Clean Machine" Program began accepting applications for replacement assistance in North Texas on Feb. 9, offering qualifying motorists up to $3,500 vouchers toward the purchase of newer, more fuel efficient vehicles.

Last year, 652 vehicles were replaced when this component of the program was open.

North Texans whose vehicles have failed the emissions portion of the state inspection in the past 30 days or are more than 10 years old are encouraged to apply for replacement assistance if they meet the income criteria and vehicle requirements. A family of four earning $72,750 or less per year may receive assistance.

Assistance is open to vehicle owners in nine Dallas-Fort Worth area nonattainment counties (Collin, Dallas, Denton, Ellis, Johnson, Kaufman, Parker, Rockwall and Tarrant). AirCheckTexas is one of many programs implemented to help North Texas reach attainment of the federal government's ozone standard, which it has until 2018 to meet.

This is the fourth year in a row the replacement assistance has operated on a limited basis, following a reduction in funding. The repair component of the program, offering vouchers worth as much as $600, has continued year-round.

The program offers $3,000 vouchers toward replacement of vehicles with newer, cleaner automobiles. The amount increases to $3,500 for hybrid, electric or natural gas-powered vehicles.

Read More... | 4625 bytes more | Comments? - Rating: 0.00 (0 votes) -
Local News, Notes and Events
Posted by LewisvilleTexan

on 2015/2/14 10:54:47

(

228 reads

)
Keep Lewisville Beautiful received a first place Keep America Beautiful Affiliate Award and a Storytelling Award at the annual Keep America Beautiful national awards dinner, held during the recent 2015 KAB National Conference in Washington, D.C.

Keep Lewisville Beautiful was honored for distinguishing itself as the top exemplary affiliate organization in the 50,001-200,000 population category. Taking first place in its category, the organization was honored for its outstanding community improvement programs.

KLB also was honored with a special Storytelling Award, one of just five affiliates recognized in the nation. This award recognizes KAB affiliates who have demonstrated the successful use of different communications tools – traditional and nontraditional – to tell their affiliate's story. The award evidences that Keep Lewisville Beautiful has done an exemplary job of raising awareness about community issues and motivating and engaging the community to take action through effective storytelling.

KLB took first place in its population category for its implementation of multiple community improvement programs in 2014:


Spring Clean Up: The KLB organization brings together thousands of local volunteers annually to benefit the community through litter prevention and cleanup. In 2014, KLB had a record 686 volunteers who contributed 2,638 volunteer hours removing 9.8 tons of trash from the Lewisville community in just three hours.

Make-A-Difference Day projects: 390 KLB volunteers logged 1,170 beautification hours by planting 1,260 Texas Native prairie grasses and an estimated 270,000 wildflowers from seed as part of National Planting Day. In addition, volunteers built plots in Lewisville's organic community garden, cleared out abandoned plots, improved walkways and installed three compost bins for community gardeners.

Trinity Trash Bash Waterway Cleanup: Almost 400 KLB volunteers helped remove 6.6 tons of illegal dumping and litter from local creeks, streams, shoreline and waterways. In conjunction with the cleanup, KLB hosted a special Texas Arbor Day celebration and hosted an educational expo.
Read More... | 4031 bytes more | Comments? - Rating: 0.00 (0 votes) -
Local News, Notes and Events
Posted by LewisvilleTexan

on 2015/2/14 10:28:09

(

203 reads

)
The right lane of the east and westbound Sam Rayburn Tollway to southbound I-35E ramps will be closed overnight from 9 p.m. Saturday, Feb. 14 until 6 a.m. Sunday, Feb. 15. One lane of traffic will remain open on the ramps.

Law enforcement officials will be onsite to help direct traffic.

This closure is needed for work related to the 35Express Project, an expansion of I-35E between US Highway 380 in Denton County and I-635 in Dallas County. All closures are subject to weather conditions and may be postponed, as necessary.

For more information on the 35Express Project or to sign up for traffic alerts, please visit www.35Express.org or call 214-483-7777.

From a submitted report
Comments? - Rating: 0.00 (0 votes) -
Lewisville Area Calendar and Events
Posted by LewisvilleTexan

on 2015/2/12 22:50:00

(

514 reads

)
As always, there are a ton of events coming up in Lewisville and the surrounding cities. Here are some selected events that you may find interesting.


Saturday, February 14th: Household Hazardous Waste Collection Event
The City of Lewisville operates a household hazardous waste collection center that provides residents with a convenient, safe and environmentally sound way to get rid of waste materials that should not be put into the landfill.

The Residential Convenience Center, 330 W. Jones Street, will be open Saturday, February 14th, from 9 a.m. until noon, to accept materials from Lewisville residents, who must provide a driver's license for proof of residency.
More information...

Tuesday, February 17th: State of the Cities Luncheon
11:00 AM - 1:00 PM
Hilton Garden Inn

Join the Lewisville Area Chamber of Commerce for the State of the Cities Luncheon, featuring the Mayors of Lewisville, Highland Village, and Flower Mound. The mayors will give a recap of 2014 and discuss the growth and reinvestment plans for 2015.
Registration info is here.

Thursday, February 19th: LHS-Harmon Chin Cultural Festival
Lewisville High School's Harmon campus is hosting its annual Chin Cultural Festival Feb. 19 from 6 to 8:30 p.m. in the cafeteria. The celebration of Chin National Day will include music, food and dancing. Admission is free. For more information, email Jack Martin at martinj@lisd.net or Steven Ceu at ceut@lisd.net.


Friday, February 20th: Symphony presents Dazzling Talent concert
Lewisville Lake Symphony presents Dazzling Talent, featuring cellist Sai Sai Ding, Friday, Feb. 20, at 7:30 p.m., at Medical Center of Lewisville Grand Theater, 100 N. Charles Street. Tickets are $25 for adults, $20 for seniors and $10 for students. Tickets can be purchased on line at lewisvillesymphony.org.

Cellist Sai Sai Ding, 2015 Grand Prize Winner of the Vernell Gregg Young Artists Completion, will perform as soloist with the Lewisville Lake Symphony. Sai Sai will play Tchaikovsky's Rococo Variations. In addition to performing with the Symphony, Sai Sai receives the $1,000 Bill and Grace Lawrence Scholarship.
More information...

Saturday, February 21st: Vocal Majority Choral Concert
Dallas-based men's chorus "The Vocal Majority" will perform a benefit concert for LHS Choir on Saturday, February 21, 7 p.m. at the Stuver Auditorium at the LHS Main campus. This will be a great show! Purchase tickets for $11 here.

Check out the video of the Vocal Majority's winning contest song from this past summer.

Saturday, February 21st: Texas Tunes: The Waymores play MCL Grand Theater
The Waymores continue the Texas Tunes series at the Medical Center of Lewisville Grand Theater at 8 p.m.
Tom Kimmel, Sally Barris and Don Henry are three of Nashville's finest singer-songwriters, all with strong ties to Texas music. They are known, individually, for their compositions (wrote songs for Ray Charles, Johnny Cash, Trisha Yearwood, Miranda Lambert, Linda Ronstadt and dozens of others) and for outstanding solo work. But real magic happens when the three unite on stage and in the studio.
More information...

Tuesday, February 24th: Heart Health Class
To support ongoing health education, Medical Center of Lewisville presents the "Marathon to Good Health" series through its HealthyU program. Monthly events are free and feature physician speakers, health education, motivation and support. The monthly series is held at Medical Center of Lewisville Grand Theater, 100 N. Charles Street.

"Heart Health" will be held Tuesday, Feb. 24. Dinner starts at 6 p.m., followed by the presentation starting at 6:30 p.m. Tickets can be obtained online at lewisvillemedical.com. For more information, call 972.420.7444 or email renee.berres@hcahealthcare.com.

Thursday, February 26th: Children's Magic Show
C.J. Johnson's Children's Magic Show will be held Thursday, Feb. 26, at 7 p.m., in the Performance Hall of the MCL Grand, 100 N. Charles Street. Tickets are $10 and are available by calling 972.432.8982.
Johnson was born in St. Louis and currently lives in the Texas Hill Country outside Austin. His fascination with magic came at an early age when he was given a magic book, "Dunninger's Monument to Magic," for Christmas one year. In 1985, he auditioned for Ringling Brothers and Barnum and Bailey Circus Clown College. Though not accepted into that year's class, the audition changed his life. In 1991 he was awarded "Best Comedy Magic Act" by the Texas Association of Magicians, and he's performed at several of their conventions since that time.

In 1994, Johnson began touring theaters and convention centers performing shows as fundraisers for police groups and civic organizations. At about the same time, Johnson began an earnest study of hypnosis. He became a certified and registered hypnotherapist through the American Board of Hypnotherapy and is now one the most in-demand stars of the hypnosis world, with appearances at casinos, corporations, colleges, night clubs and high schools throughout the country.

Friday, February 27th: Free Heart Screening
Lewisville Estates senior living community is offering a free heart screening from 9 a.m. - 11:30 a.m. on February 27th. The screening takes place at Lewisville Estates, 800 College Parkway, and is open to the public. For more information, visit their website or call 972-919-0265

Saturday, February 28th: PediPlace Gala at MCL Grand
PediPlace Gala 2015, "Fun and Games," will be held Saturday, Feb. 28, 7-11 p.m., at Medical Center of Lewisville Grand Theater, 100 N. Charles Street. Tickets are $125 each and can be purchased at PediPlace.org.
At this year's event, guests will enjoy music, casino games, laser tag, shuffleboard and lots of other fun surprises as they enjoy passed hors d'oeuvres. More than 425 people attended last year's extravaganza.

PediPlace provides healthcare to 6,200 children throughout North Texas where the need for primary care is significant. PediPlace patients receive immunizations as recommended, treatment when needed, and follow-up case management services to help them remain healthy and strong. Funds raised at the gala will benefit programs that allow PediPlace to make healthcare a reality for every child.

For more information or to become a sponsor, contact Shari K. Markey at shari.markey@pediplace.og or 469.322.3660.

Read More... | 15171 bytes more | Comments? - Rating: 0.00 (0 votes) -
Links, Thoughts, and Open Thread
Posted by LewisvilleTexan

on 2015/2/11 9:00:00

(

291 reads

)
We don't always have the time to cover every newsworthy story in our city, but we do like to share links to stories that we think would be interesting to our readers. Here are some that we've been reading:

Many Lewisville residents get their cable television, telephone, and internet service from Verizon. Sometime next year, Frontier Communications Corporation will take over Verizon's business in this market.

There has been a lot of talk about vaccines recently, as measles has re-emerged in the United States. There has been a fair amount of controversy over parents who refuse to vaccinate their children due to non-medical reasons. The Texas Tribune did an investigation of the rates of non-medical vaccine exemption in Texas School districts. Denton ISD came in pretty high at 12.4% non-medical exemption, while Lewisville ISD has a very respectable 1.18%. (Update: Denton ISD says its number was a mistake.)

Lewisville Fire Department has announced it's 2015 Keeping Tradition Alive Honor Guard, Pipes & Drums Symposium will take place on May 7th and 8th. The public jam and concert at City Hall will be held on Friday, May 8th, and they intend to bring back the Killdares to perform.

Lewisville and Coppell are working together on the reconstruction of the intersection of Lake Vista Drive and MacArthur, which is in Lewisville, but is highly used by Coppell residents in their commutes.

This is really going to happen. For real. They promise. Commence holding your breath now.

The Dallas Morning News has a special project called Transparency 2015, where they rated the overall transparency of governmental agencies in the area. The City of Lewisville scored an "A" rating with 96.2%. We agree with the score, and will note that the City of Lewisville is usually prompt and courteous, and seems to hold transparency as a core value. Lewisville ISD earned a "B" with 88.5%, mostly due to poor web customer service, and a failure to post online meeting notices. Longtime readers will note that The Lewisville Texan Journal has criticized LISD on these items before. While it is getting better, it has a way to go.

Worldpac Inc., an auto parts distributor, has opened a regional distribution center in Lewisville.

Rep Michael Burgess (R, Lewisville), along with Rep Crhis Van Hollen (D, Maryland) have introduced the Advancing Research for Neurological Diseases Act (H.R. 292)

Lewisville hired Yolanda Wilson as neighborhood services coordinator. The Lewisville Leader has more on what she'll be doing.

Flower Mound Councilman Bryan Webb wants the town to do something different to bring in more young families.

Here's a nice piece about Lewisville sculptor Ken Wheatley.

Lewisville firefighter Andy Allison had a nice retirement ceremony.

Baha'i Faith Center in Lewisville got a new playground.

Courtney Marlow, a junior at Lewisville High School earned her Girl Scout Gold Award.

The Town of Flower Mound received a grant to help with construction of a new lane at Gerault and FM 2499.

A teen brought a fake gun to LHS' Harmon campus, and got in some trouble.

State Rep. Ron Simmons would like to hear your thoughts on allowing the open carry of handguns in the State of Texas. He asks citizens to contact him and let him know if the legislature should pass open carry with a required license, without a required license, not at all, or something else. You can email him here.

ULTA Beauty is opening a new store in Lewisville.

The Big D Stair Climb raised funds to fight leukemia, and Lewisville city employees took part. The event this year honored Lewisville Fire Chief Tim Tittle, who himself battled leukemia.

Comments? - Rating: 0.00 (0 votes) -
Local News, Notes and Events
Posted by LewisvilleTexan

on 2015/2/9 21:10:00

(

4002 reads

)
A high-speed police chase of an apparently intoxicated driver ended Saturday night in a crash on Mill Street, and the recovery of methamphetamine that police say the suspects intended to sell.

The incident began about 8:21 p.m. Saturday, when Lewisville Officer Drake Bartlett saw a blue Chevy Cobalt make a sudden u-turn at the 1800 block of east SH 121 Business. The driver of the vehicle allegedly failed to yield, and caused an oncoming vehicle to have to brake. The suspect vehicle accelerated southbound on 121 at high speed, unable to stay in a single lane. Bartlett began pursuit of the vehicle, which was making erratic lane changes with the left turn signal activated. When the officer activated the siren, the suspect vehicle sped up, and the officer chased him at speeds reaching up to 100 miles per hour.

The suspect continued to lead police on the chase, down Main Street to Railroad Street, to College Street, and eventually to Mill Street, where the suspect turned north towards the lake, and reached speeds up to 105 MPH.

As the pursuit travelled north on Mill Street, Bartlett slowed down a bit and briefly lost sight of the vehicle as it travelled over a hill. In the 1600 block, near where Mill intersects Jones, an innocent driver was in the left lane, trying to get over to the right lane when their car was struck by the suspect car. The suspect's car then jumped the right curb and came to rest against a metal fence or gate at the golf course, damaging it.

Both the driver and passenger of the vehicle fled police, leading to a 200-yard foot chase across the golf course. Eventually Bartlett caught up with the driver, who was allegedly uncooperative even at gunpoint, but was taken to the ground and handcuffed. Officer Michael Hernandez and Sergeant Jesse Hunter located the passenger in the golf course with the help of the department's police dog, Officer "Nitro".

Read More... | 3847 bytes more | Comments? - Rating: 6.00 (1 vote) -
Links, Thoughts, and Open Thread
Posted by LewisvilleTexan

on 2015/2/8 0:47:43

(

623 reads

)
Chalk This Way! Festival looking for art vendors
Lakeside Arts Foundation is seeking fine art vendors for the Chalk This Way! Sidewalk Art Festival, sponsored by Greater Lewisville Arts Alliance and the City of Lewisville, on May 9. The event will be held from 9 a.m. to 6 p.m. outside the Medical Center of Lewisville Grand Theater, 100 N. Charles Street, in historic Old Town Lewisville.

Booths are $60 for fine art vendors selling original works of art or hand-crafted gifts and decorative items. Booths for nonprofit organizations are $30. Booths for food vendors and community and business vendors are $75 per space.

Admission is free to the event but there is a charge for some of the activities. The day-long event will feature professional chalk artists, amateur chalk art contest, scholarship contest, a children's non-competitive gallery, art, food and drink vendors, music and a variety of entertainment.

Details, rules, vendor forms and entry forms are available online at chalkthisway.org. For more information, contact Lakeside Arts Foundation at 972.625.1726 or email president@lakesidearts.org.


Central Elementary's Babino Named Lewisville Chamber Educator of the Year
Bilingual LEAP Teacher Gets New Car; Borenstein, Hadley Honored as Finalists

The Lewisville Area Chamber of Commerce named Central Elementary Bilingual Learning Enrichment Academic Program (LEAP) Teacher Alexandra "Ale" Babino as 2014 Educator of the Year at its Annual Awards Luncheon Jan. 27 at Hilton Garden Inn Lewisville.

"The Lewisville Area Chamber of Commerce and the more than 700 members it represents understands that education is one of the most important segments of a healthy business community," Chamber President Ray Hernandez said. "Ale Babino was an excellent choice for Educator of the Year because of her ongoing commitment to providing and expecting excellence in the classroom.

Babino was one of three finalists for the inaugural award, joining Lewisville High School Social Studies Teacher Robert Borenstein and Huffines Middle School 8th Grade English Teacher Jennifer Hadley. They were selected by Chamber representatives from the pool of 22 Lewisville ISD (LISD) Central Zone campus teachers of the year. The trio then replied to a questionnaire, including answering the question, "How have you changed children's lives as an educator? Read more...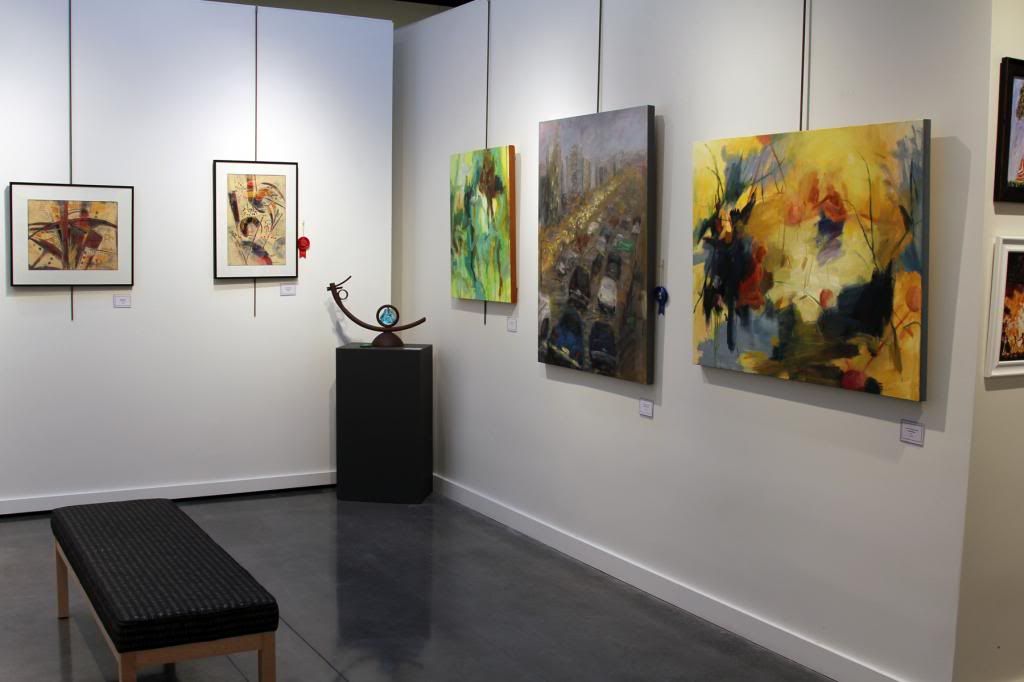 MCL Grand art gallery extends hours
Starting Tuesday, Feb. 10, operating hours for the art gallery at Medical Center of Lewisville Grand Theater, 100 N. Charles Street, will be extended to 10 a.m. to 5 p.m., Tuesday through Saturday. Previously, the gallery was not open until 1 p.m.
MCL Grand is the premier public arts facility in Southern Denton County. The 40,000-square-foot facility features a 296-seat proscenium theater, black box theater, dance recital hall, art gallery, five art classrooms and a large courtyard. Medical Center of Lewisville has a multi-year naming rights agreement for the city-owned facility.


Railroad Street to be closed for repairs until April
Railroad Street will be closed for repairs from Hebron Parkway to the entrance of DFW Landfill at 1600 S. Railroad Street. The street will be closed beginning Monday, Feb. 16, and will remain closed through Monday, April 13, weather permitting.

Access to Railroad Street will be available from Hebron Parkway via Lake Pointe to Corporate Drive. The detour route will be marked, and access to the DFW Landfill will be available from the north via Corporate Drive, Bennett Lane or State Highway 121 Business.
For information, contact the Street Division at 972.219.3510.

Library conducting online survey
Lewisville Public Library will conduct an online survey through Feb. 28 to find out how residents use the library, collections, computers and space, as well as what changes and improvements visitors would like to see at the library.

The Lewisville Public Library Board will incorporate the responses to the survey into a new Library Strategic Plan to guide future services and funding. The survey is available at cityoflewisville.com, as well as on computers in the library.


Vaughn appointed to National League of Cities committee
Lewisville City Councilman Leroy Vaughn has been appointed to the 2015 Finance, Administration and Intergovernmental Relations Steering Committee for the National League of Cities.
Vaughn is one of only two members appointed from Texas. As a member of the committee, he will play a key role in shaping NLC's policy positions and advocate on behalf of America's cities and towns before Congress, with federal agencies, and at home.

This committee has the lead responsibility for developing NLC federal policy positions on issues involving national economic policy, general financial assistance programs, liability insurance, intergovernmental relations, census, municipal bonds and capital finance, municipal management, antitrust issues, citizen participation and civil rights, labor relations, Native American sovereignty and municipal authority. The appointment was announced by NLC President Ralph E. Becker, mayor of Salt Lake City, Utah.

For more information on NLC's other committees and councils, visit nlc.org.
National League of Cities is dedicated to helping city leaders build better communities. NLC is a resource and advocate for 19,000 cities, towns and villages, representing more than 218 million Americans.


Lewisville Police Department announces third-quarter accolades
Lewisville Police Department named Officer Duk Lee as Officer of the Third Quarter 2014, and Virginia Fisher as Civilian of the Third Quarter 2014. Both employees were recognized for their outstanding job performance. Photo at right: Chief Kerbow is shown with Duk Lee (left) and Virginia Fisher (right photo)


Simmons Reports Committee Assignments
The Texas House of Representatives committee assignments were released Wednesday, and Rep. Ron Simmons (R, Carrollton) reports that he has been appointed to the House Transportation Committee and the House Business & Industry Committee. "I am especially honored to have been named Vice Chairman of the Business & Industry Committee," he said.

The Business & Industry Committee has jurisdiction over matters pertaining to industry and manufacturing, identity theft, relationships between employers and employees, oversight of the construction industry, and several other related matters

This article contains material from submitted reports
Comments? - Rating: 0.00 (0 votes) -
Lewisville Area Calendar and Events
Posted by LewisvilleTexan

on 2015/2/7 23:43:41

(

231 reads

)
Jason Lee, Eric Noren, Midlake and Boxcar Bandits

The 8th Annual Thin Line Fest wkick off 2015 on Wednesday, February 18 with the Texas Premiere showing of Midlake: Live in Denton, a film by Jason Lee and Eric Noren at Campus Theatre, 214 West Hickory Street in Denton, Texas at 7:30pm. A Q&A with Jason Lee, Eric Noren and MIDLAKE BAND's Eric Pulido will follow. Tickets are available online and will be for sale at the box office day of for $10. All ages are welcome at the film showing.

The after party at Dan's Silver Leaf, 103 Industrial Street, a few blocks from Campus Theater, on Denton's Downtown Square will be from 10:00pm until midnight with live music by the Boxcar Bandits. Tickets will be available for the after party as well for $15. Must be 21 and older to attend the after party.


An Opening Night Pass is available for $25, which includes priority seating for the film and Q&A session and entry into the after party. Other festival passes, i.e. All Access Passes, Film Passes, and Music Passes are also available online for purchase. Get your tickets today at www.thinline.us.

Thin Line is a film, music, and photo festival held over 5 days in Denton, Texas - just north of Dallas / Fort Worth. The 8th annual festival is February 18-22, 2015. For five days, Thin Line will deliver an engaging program of high quality documentary films, world-class music, and (new in 2015) a diverse palette of photographic art.

For festival details, please visit Thin Line Fest on facebook or their website thinline.us.

From a submitted report
Comments? - Rating: 0.00 (0 votes) -