The Editor's Column
Posted by Trace

on 2008/11/17 21:37:56

(

2006 reads

)
Throwing money at America's carmakers will not help workers

It is not difficult to imagine why many congressional leaders are pressing ahead with plans to bail out the Big Three automakers. As our country starts shoveling out from our children's future over seven hundreds billion dollars at failing financial companies, where workers earn absurd multiples of the average American income. These companies have endangered the world economy with their careless and truly reckless behavior. How could our congressional leaders say no to the blue-collar workers operating the assembly lines at Ford and General Motors?

In the wake of a splendid electoral victory built on the one word "Change" How can president-elect Obama tell the country that the government's bailouts are reserved for Wall Street Fat Cats? And not everyday folks like most of us. No blue-collar worker at these plants can expect a couple of million bonuse this year or any year.

The easy answer is that such rescues are not to be made lightly, and automakers (regrettably for them) are not threatening to devastate the global financial structure. Another is that once the government is in the business of bailing out automakers, it becomes very hard to say no to airlines, retailers, technology companies and every other struggling firm out there, which is every firm out there.

But the best answer of all is that a bail-out involving tens of billions of taxpayer dollars ought to hold out the promise of helping the people it's supposed to help. Saving Ford, General Motors and Chrysler provides no such hope. In all probability, a bailout will hurt the very region it is meant to help.

The main reason for this is that a rescue is unlikely to work and will not work in my opinion. The Big Three face an enormous set of challenges. Current economic circumstances have battered all automakers. Sadly in both good and bad times Detroit has more or less constantly ceded market share to rival firms (many of which employ thousands of Americans and will operate through the recession with no government assistance). Its plants and equipment are old. Its management is unproductive and rigid. Its products are of low quality. If major restructuring is not present, it is fantasy to expect any meaningful change.

Detroit has found itself in these straits in the past. Nearly 30 years ago, as the American automakers flailed amid high oil prices and foreign competition, Chrysler went to the government hat in hand, seeking help to avoid bankruptcy. It got it, and in return promised to build better and more fuel-efficient cars. Chrysler survived and even thrived at times on sales of minivans and SUVs, but the firm never solved its fundamental problems. The bailout kept a company alive, yes. However, it failed to save the Rust Belt or produce the necessary top-to-bottom restructuring. We have little reason to expect a different outcome this time around.

More important still is the opportunity cost of saving the automakers. It is suggested that millions of jobs might be lost if the firms folded. That may well be true, but those workers would not remain unemployed forever. At present, the Big Three suck up labor and human, physical and financial capital that might instead be employed at more productive firms in healthier industries. Allowing the automakers to fail creates an opportunity for a much-needed reallocation of resources. From their ashes, anything, including an automaker free of the institutional burdens of the Big Three, might emerge. Standing in the way of this process will damage the long-term outlook of the entire region.

Political energy in the Rust Belt is also geared toward maintaining the status quo at the expense of other and more pressing priorities. It is frequently suggested that the region's manufacturing expertise might be redeployed into green industries, producing valuable new technologies for global consumption. However, regional legislators politically committed to automobile production often push a less aggressive approach to climate change legislation – reducing the profit potential of green products. Heavy dependence on the old slows progress toward the new.

Moreover, there is the direct opportunity cost of the money involved –Thirty Five billion spent propping up the Big Three is Thirty five billion that cannot be spent on direct investments in the people and cities of the Rust Belt. That kind of money will fund early retirement for older workers. Pension funds and unemployment benefits. With nothing in reality going to fix the problem that got them here in the first place.

Ford, General Motors and Chrysler are American institutions. They have helped define the character, the shape and the economy of the nation for a century. They are also just companies – corporate entities designed to provide goods and services at a profit. For too long, these firms have failed at that goal, and they have dragged down an entire region with them. We can spend that Thirty five billion simply perpetuating, for a while longer, the names and structures of these companies. Alternatively, we can spend that Thirty five billion helping the people and the cities of the Midwest. I do not believe we can do both.

This Thirty Five billion dollars could be put to better use in the Rust Belt region retraining for younger workers from the auto industry, with enough left over for infrastructure improvements, research incentives for auto makers and educational grants for the region as a whole.


Don Tracey
Read More... | 8 comments - Rating: 0.00 (0 votes) -
Miscellaneous
Posted by WhosPlayin

on 2008/11/17 8:39:21

(

840 reads

)
It's Monday, and that means it is time for another edition of the Texas Progressive Alliance's weekly blog round-up.

Barfly at McBlogger takes a moment to remind all of us that we better not fu** with Barbie.

Ruth Jones McClendon gets the Speaker's race dangerously wrong says CouldBeTrue of South Texas Chisme.

Vince at Capitol Annex takes a look at the race for Speaker of the Texas House of Representatives and provides answers to two important questions: is a secret ballot legal and will a secret ballot doom Tom Craddick?

Phillip at BOR counts heads for the Speaker votes, and finds that Craddick's ceiling of support is much lower than most realize.

The Texas Cloverleaf attempts to stop the H8 in Denton, with over 120 people; and explains why the marriage amendment in Texas, and other states, is not valid.

TxSharon atTexas Kaos warns of what should be unthinkable, but in too many Texas towns and cities is a real danger: Imagine If This Pipeline Explosion Happened In Your Front Yard.

Dembones at Eye On Williamson maps the Democratic resurgence in Williamson County in The color purple.

jobsanger looks at a change coming to the Democratic Party in Dean To Resign as DNC Head, and another change that is needed when he has his 1st Disagreement With Obama over kicking Lieberman out of the Senate Democratic Caucus.

Neil at Texas Liberal posted this week on the subject of Ass Headed Demons. An upcoming new feature on Texas Liberal is going to be the Ass Headed Demon list. Stay tuned and see who makes the list. It might someday even be you!

Off the Kuff analyzes where and when the vote was in Harris County.

Donna at Texas Education ponders her future as a Catholic in these days of Eucharastic litmus tests.

BossKitty at TruthHugger recognizes that Disasters Increase BioHazards - Global Health Is Personal and sees the media flashing more stories about "green living" "low carbon footprint" and "fuel economy". But underlying all that, is the unspoken reality that floods, fires, earthquakes, etc, unearth buried hazards from past and present irresponsible behavior, and are seeping back into our lives.

John Coby at Bay Area Houston says Stephanie Simmons was a candidate for State Senator in Texas Senate District 17 running as a so-called "Democrat", but her campaign donations say otherwise. See Raising Campaign Cash 2008: Stephanie Simmons.

The week-long drama of Paul Bettencourt's continuing attempts to suppress the last of the Harris County votes, the Texas Democratic Party's legal action against him, and the anticlimactic outcome was dutifully chronicled by PDiddie at Brains and Eggs.

Looks like the neocon flamethrowers in the media barely waited for the ink to dry on Election Day results to commence with their right-wing fabrications. The Texas Blue takes a look at the first salvo.

Over 300 protests took place over the weekend against California's Proposition 8, which reversed marriage equality in that state. North Texas Liberal has stories and photos from the protest march that took place in Washington, D.C.
Comments? - Rating: 0.00 (0 votes) -
Oil and Gas
Posted by WhosPlayin

on 2008/11/15 19:50:00

(

1044 reads

)
So, today I gave what was probably my 5th or 6th presentation to members of our neighborhood group that formed to deal with gas drilling in the neighborhood. I was a little off my game today.

Usually what I try to do is explain some of the things that could possibly happen due to gas drilling, being careful to explain that the purpose is to make sure that we are vigilant in ensuring that we get our concerns addressed and that we write into our eventual contract whatever conditions we think are necessary. I try to stress to folks that these kinds of things don't happen in the vast majority of the cases.

Read More... | 2659 bytes more | 3 comments - Rating: 0.00 (0 votes) -
Links, Thoughts, and Open Thread
Posted by WhosPlayin

on 2008/11/12 8:43:06

(

833 reads

)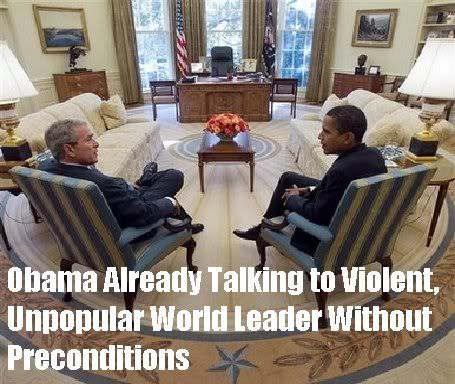 The SoDeCo Democrats website had this photo on its front page today. Funny.

Rush Limbaugh is already blaming this recession on Barack Obama. What a buffoon! "His ideas are killing the economy," says Limbaugh. Give it a rest, blow-hard. Why don't you try putting your country first, instead of trying to improve your ratings.
Comments? - Rating: 0.00 (0 votes) -
Get Involved! - Rise to Your Higher Self
Posted by WhosPlayin

on 2008/11/11 15:12:13

(

2406 reads

)
One of the biggest issues facing Lewisville in the near future is the expansion of Interstate 35 E. through the city. The Lewisville Leader reports that TxDOT will be holding a public hearing THIS THURSDAY:

An open house public meeting to discuss the widening of Interstate 35E from Dallas to Denton through Lewisville is scheduled for 5-8 p.m. Thursday at the Municipal Annex at West Main Street and Civic Circle in Lewisville.

The Texas Department of Transportation (TxDOT), which is sponsoring the meeting, plans to widen and improve I-35E in a 28-mile stretch from Interstate 635 in Dallas to U.S. Highway 380 in Denton, with plans to award a contract in 2010.

Mark Pettit, TxDOT public information officer, said the contract cannot be awarded until the federal government approves a FONSI (finding of no significant impact on the environment).

Plans are to widen I-35E to 10 main lanes with three frontage roads on each side, with two reversible HOV managed lanes.

The main area in Lewisville that will be affected by the project will be between Main Street and Business Highway 121.

Under the present TxDOT plan, some residences and commercial businesses on both the east and west sides of I-35 in Lewisville would be purchased by the state and eventually demolished or relocated.

Concerning the economic impact of the widening of I-35 on the city of Lewisville, TxDOT officials are emphasizing that both the short term and long term impacts should be considered.


Read more...

Folks, when these businesses and residences are removed to make room for I-35, we will lose some of our retail, and some of our tax base. It needs to be done, but we need to know what the impacts are going to be, so that we can plan for them. If you can make this meeting, please go.
Read More... | 2 comments - Rating: 0.00 (0 votes) -
The Editor's Column
Posted by WhosPlayin

on 2008/11/11 10:18:27

(

798 reads

)
I just wanted to note that today is Veterans Day. It's more than just a postal holiday. People like myself who like to vote and exercise our freedoms owe a tremendous debt of gratitude to our nation's veterans of our armed services.

Their very presence and readiness to fight and defend our nation - whether or not they actually served in a war zone - ensured that our country remained free.

Thank a veteran today!
Comments? - Rating: 0.00 (0 votes) -
Miscellaneous
Posted by WhosPlayin

on 2008/11/10 23:29:29

(

795 reads

)
OH. My. GOD. Why didn't I think of this?

This Midkiff fella has some mad skillz when it comes to designing websites.

(Probably because I don't have senile dementia...)

Sorta reminds me of Dr. Bronner, or even the Timecube guy.

If you all will just make WhosPlayin.com your home page, I can make fat stacks of cash! Ctrl-D to bookmark, you fools!
Comments? - Rating: 0.00 (0 votes) -