The Nimrods Never Cease to Amaze Me
Posted by WhosPlayin

on 2008/8/13 19:02:59

(

1002 reads

)
Arkansas state Democratic Party Chairman Bill Gwatney was assassinated this afternoon at his office in Little Rock.

At this point, the police are not reporting a motive. The gunman was killed by police after a car chase.

Speculation as to motive is beginning in some online forums, and it's not pretty.

What is this country coming to? Where is our civility?

-----------------------------
The shooter was identified as Timothy Dale Johnson, 50, of Searcy, AR.
Read More... | 1 comment - Rating: 0.00 (0 votes) -
Links, Thoughts, and Open Thread
Posted by WhosPlayin

on 2008/8/12 12:50:11

(

1101 reads

)
Apparently I missed that day in driving school all those years ago, when they taught toll-road etiquette. Pardon me, but I grew up in Waco, where there were no toll roads.

Apparently, it's verboten to actually slow down the line by paying the toll tax with cash or change, and it's perfectly acceptible to get up on somebody's ass if they should dare delay you by a second or two to pay.

With my new job, it's a lot easier to get here on the tollway. I just haven't had the opportunity yet to go and get a toll tag - and to tell the truth, I'm not enthused about allowing them to charge my account whenever they want. There's something nice about the anonymity of paying with cash too.

So today, I realize as approaching my exit, that I'm out of quarters and only have a dollar bill. I pull into the far right lane with the coin changer, leaving the left lane open for people to barrel through like idiots at 50 mph. So what does a**hole do? Pulls up right behind me, though the other lane is open. And of course the machine wants to take its time accepting my dollar. Then screw me for actually wanting to wait until the light turns green so I don't get a ticket.

Nope, a**hole pulls up 2 inches from my bumper and basically pushes me through, making wild hand gestures in the air, then follows me through and zooms around at full throttle, just to be able to stop right ahead of me at the stop light ahead.

It must suck to be so impatient as to let someone paying their toll get you in a huff. I like to think that folks like that are just having a bad day.

Come on, Texans: Drive friendly.
Read More... | 1 comment - Rating: 0.00 (0 votes) -
Get Involved! - Rise to Your Higher Self
Posted by mamask8z

on 2008/8/11 14:56:50

(

1028 reads

)
Are you a garage sale addict in the Lewisville/Highland Village/Coppell/Flower Mound area? Well, have I got a dandy for you!

Team "Cruisin' Caddys" is a participant in
what: Community Garage Sale
where: Lewisville Senior Center (Corporate Dr. and Valley Pkwy.)
1050A S. Valley Parkway, Lewisville, TX
when: THIS SATURDAY, Aug. 16, 8am-noon
why: All proceeds go to Susan G. Komen for a Cure and the National Philanthropic Trust.


Come by, say hi, and buy our stuff! ...
Comments? - Rating: 0.00 (0 votes) -
Get Involved! - Rise to Your Higher Self
Posted by txdemjen

on 2008/8/11 8:51:00

(

928 reads

)
The South Denton County Democrats invite you to join

Rick Noriega
Democratic nominee for US Senate

at

the home of Ben Briseño & Toni Medellin

8670 Weston Lane

Lantana, TX 76226


Friday
August 15, 2008
7:30 - 9:00 pm
sponsor reception, 6:30 - 7:30 pm

Sponsor tickets: $250
Tickets: $50


Please reserve tickets at http://www.actblue.com/page/denton
To RSVP for this event or with any questions, please email Phil Lovegren at phil@ricknoriega.com or call at (512) 472-7425.






Contributions or gifts to Rick Noriega for Texas are not deductible as charitable contributions for Federal income tax purposes. To comply with Federal law, we must use our best efforts to obtain, maintain, and submit the name, mailing address, occupation and name of employer of individuals whose contributions exceed $200 per calendar year. Contributions are limited to $2,300 per individual and $4,600 per couple per election.

Disclaimer: Rick Noriega is a member of the Army National Guard. Use of his military rank, job titles, and photographs in uniform does not imply endorsement by the Department of the Army or the Department of Defense.

Paid for by Rick Noriega for Texas





--------------------------------------------------------------------------------

Invite your friends & family to join Rick Noriega for Texas today!
Tell-a-friend!
Read More... | 1 comment - Rating: 0.00 (0 votes) -
Miscellaneous
Posted by WhosPlayin

on 2008/8/10 23:17:59

(

1065 reads

)
It's Sunday night, so it's time for the weekly TPA roundup, put together by Vince from Capitol Annex.

The Truth About Texas Republicans, a new blogger-powered website designed to expose the real truth about GOP Texas legislators looks at the stuff State Reps. Dwayne Bohac, Betty Brown, John Davis, Bill Zedler and State Sen. Mike Jackson don't want you to see.

refinish69 was happy to introduce a real progressive Democrat to the readers of Doing My Part For The Left a few weeks ago but has to wonder how to describe Mike Skelly: Democrat or Republican Lite?

Vince at Capitol Annex takes a look at the Texas State Teacher's Association lawsuit against the Texas Education Agency for giving public funds to private institutions.

Irony Alert: Mary McDaniels, Manager - Pipeline Safety, Texas Railroad Commission, who lied on camera about the Atmos Energy gas pipeline couplings, spoke in Ft Worth about pipeline safety, inspections and regulations, for Chesapeake Energy's Barnett Shale pipeline, says TXsharon at Bluedaze.

Julie Pippert at MOMocrats asked, "Offshore drilling---whose issue is it anyway? The people's? Or the politician's?"

Women who enter the military know they may encounter danger along the way, just as their male counterparts do. Diarist Liberal Texas at Texas Kaos highlights an additional danger they face in Assault on Women in the Military, and calls on all of us to ensure that our fighting women are protected from sexual assault from the companions they should be able to trust.

WhosPlayin used to think John McCain was worthy of respect, even if wrong on issues. But mocking conservation and lying about Obama raising taxes show who John McCain really is.

jobsanger thinks Democrats should let Clinton's backers have their vote at the convention, and believes Barack Obama has a chance to win Texas this November.

Neil at Texas Liberal talks about AIDS and black people.

Due to purchase of McBlogger by a rival blogging firm, the regular writers are on strike. This week, we'd like to introduce you to a new McBlogger, Rose
Petal.

North Texas Liberal remarks on John McCain's anti-Obama ad comparing the Democratic nominee to Paris Hilton and Britney Spears, and also includes Hilton's response ad. Still waiting on Britney's energy policy...

Off the Kuff takes a look at The Queue behind KBH for her maybe-to-be-abandoned Senate seat.

YaGottaLoveIt of South Texas Chisme urges Barack Obama to have a fundraiser for money that stays in Texas while urging Hillary Clinton to campaign for Rick Noriega in South Texas.

WCNews at Eye On Williamson posts on the Williamson County DA's unwillingness to test DNA evidence in a almost 30 year old unsolved murder, Lawsuit Filed Against County For New DNA, Fingerprint Tests.

Tropical Storm Edouard was more like a decent rainstorm, but that didn't stop the media -- old as well as new, including madcap reporter/Congressman John Culberson -- from building it up to a height it could no more sustain than its winds. PDiddie at Brains and Eggs has the roundup of the hyperventilating in Houston.

BossKitty at TruthHugger is concerned about the economy "Purses Tighten, Small Business Suffers, Families Budget"

nytexan at BlueBloggin points out, as the Gerogia Russia war continues and Bush plays with U.S. athletes at the Olympics, Could The U.S. Get Pulled Into Georgia's War?

XicanoPwr discusses the immigration survey that was sent presidential candidates Obama and McCain put together by The Sanctuary, a web base grassroots community of pro-migrant, human rights, and civil-rights bloggers.
Comments? - Rating: 0.00 (0 votes) -
The Editor's Column
Posted by WhosPlayin

on 2008/8/10 15:20:23

(

1208 reads

)
On Friday, comedian Bernie Mac died. Today, grammy winning singer, Isaac Hayes, Southpark's "Chef" is dead.

Funny guys, both of them. They will be missed.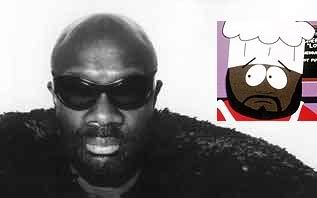 Isaac Hayes, performing "Shaft":


Isaac Hayes, as "Chef" on SouthPark: (NSFW)


Bernie Mac, performing "My Sister's Kids": (NSFW)

Comments? - Rating: 0.00 (0 votes) -
The Editor's Column
Posted by Trace

on 2008/8/10 14:08:15

(

1822 reads

)
The Bush Administration attempted to make U.S. Energy policy from bombs and guided missiles. The current administration hoped to open the Iraqi oil fields and drive down oil prices. Additionally, they hoped to break the power of OPEC nations by flooding the market with Iraqi oil. During the six years since the invasion of Iraqi. Oil, prices have ballooned from $25.00 dollars per barrel to around $ 147.00 per barrel this year.

As Washington began to loose more control over global affairs, the dollar began to move inversely with oil prices. Aggressive producers like Iran and Venezuela now sell their oil in yen and euros. And are now demanding OPEC nations follow suit and do the same.

The Aging Seven Sisters of oil, Exxon, Mobil, Chevron, Gulf, Texaco, Shell, and British Petroleum (BP), have been replaced with the seven new sisters. Saudi Arabia, Russia, China, Iran, Venezuela, Brazil and Malaysia

China drilling off the coast of Florida; Chinese firms are planning to slant drill off the Cuban coast near the Florida Straits, stealing U.S. oil reserves that are estimated at 4.6 billion to 9.3 billion barrels. The irony is that Chinese drilling could be even more of an environmental hazard since China is not as concerned about or equipped to deal with any potential ecological disaster as a result of a spill; I doubt that China would stop drilling even one day if a spilled occurred that came ashore on the lush Florida beaches. And in all likelihood would cause some major face off between the U.S. Coast Guard and the Chinese government. As soon as one of theses spills happens. But, the real end result is; Hey China that is our oil, do not touch.

Alaska's North Slope; With 4 billion to 10 billion barrels believed to be beneath the Alaska National Wildlife Refuge, drilling is held up in Congress due to the objections of environmental groups which warn of endangering caribou herds. Permission to drill in the refuge, which experts are certain will not present any environmental hazard, has failed by just two votes in the Senate.

Russia Drilling in the Artic; The Arctic is one of the last places on the planet not to have been tapped for its mineral wealth. Underneath the ocean it is thought there are enormous deposits of oil and gas - some experts estimate as much as 25% of the world's resources. The Russians do not care about the caribou and in all likelihood will just eat the caribou if they get in there way.

Turning to hard numbers, it is estimated that there are about 1.27 million barrels of oil in current reserves across the world. While this may sound like a lot, it represents about 44 years of oil supply at current usage levels. So either way we must deal with alternative energy sources and quickly. The world is almost empty in the span of time we have very little time in which to make a move to better fuel alternatives

The seriousness of all is should be obvious; China and Russia are now sniffing around our borders to find the best was to slant drill into our oil reserves and dry us out. Is this a long term plan to somehow topple the United States? I doubt it but, as sweet crude oil becomes scarce and more in demand. The new seven sisters will like thieves in the night attempt to take our reserves.

One thing is very certain no country will go without, except the United States if things do not change very soon. We must become Energy Independent but until that time Drill here Drill now.


Don Tracey
Traceyforcongress.com
Read More... | 22 comments - Rating: 0.00 (0 votes) -
Links, Thoughts, and Open Thread
Posted by WhosPlayin

on 2008/8/10 12:36:04

(

1107 reads

)
Seems like all I've written this past week has been political. But that's not all I think about.

The Job
I started a new job a few weeks ago. It still has me mostly brain fried as I try to learn systems that are new to me. Seems like the simplest tasks have been taking me way too long, since I have to spend a lot of time looking for things. I'm told they don't expect me to be all that productive for a year or two. On Friday, I got some of my marching orders to carry me through till December. It will be nice to start getting a regular paycheck again. My first paycheck last week was only for about half of what I'll normally get, since it only had one week of the pay period on it.

As I may have mentioned, most of my team works in Scottsdale, AZ, but I'm working at a corporate office in Carrollton, TX. I get my work assignments by IM and Email, doing my work remotely.

I'm sitting in an area with a bunch of older women. Earlier this week, after being there for a couple of weeks, one of the ladies came over to my cubicle, and expressed concern about whether anyone was giving me work to do. I guess she thought I was in her group, and that somehow I was flying under the radar. I thought that was funny.

The Electric Bill
You folks in North Texas check your electric bills yet this month? Holy crap! Mine was $486, I think. Our rate had gone up to 17.2 cents per kWh. (You know, because the price of wind has gone up...) My house is small too - only about 1500 square feet. My next door neighbor has a two-story house, and his was $780. He and one of my block captains both have First Choice as their electric provider. First Choice recently decided to rape their customers by increasing their rates to 22 cents. And I thought Green Mountain was sticking it to me with the 17 cents.

Folks, if you are still with First Choice, you need to go visit www.powertochoose.org and comparison shop the electricity providers. I took a look and noticed that a company called YEP Energy has a 12 month fixed rate plan at 14.5 cents per kWh, that is 100% renewable energy.

I'm thinking about switching from Green Mountain to YEP to save some money, but my one and only concern is whether YEP is financially stable. If your provider goes out of business, your service is switched back to the default provider, who can charge you whatever they want. For me, that would be First Choice.

Harbor Freight
There's a new store in Carrollton called Harbor Freight. It's a man's paradise. They sell all kinds of tools and equipment at bargain basement prices. They also carry solar power equipment. If you're into tools, check them out. They're on the Southeast corner of Frankford and Josey Ln.

But: just know that a lot of the stuff they sell is Chinese crap, that is inferior quality to what you might find at Sears. Be sure to open the box and check out any major purchases first.

As an example, I bought a reciprocating saw there on Thursday for a project here at the house. At $20, it was a heck of a deal, but I should have opened the package and checked it out. The housing was cracked and there was sawdust on the inside, indicating that it had been used.

More energy-efficiency work
So, after my huge electric bill, I consulted an energy efficiency expert who gave me yet more tips for how to reduce my bill. I may post our conversation at some point.

He suggested checking my attic ventilation to make sure that I was getting enough air movement up there. After discussing my setup with him, we determined the first step was to check soffit vents.

Soffit vents are the openings under the eaves that let air flow upward into your attic to cool the hot roof from beneath and reduce moisture. The entire western side of my house, which is the hottest part, had NO soffit vents installed.

So, using that reciprocating saw, I cut 9 openings along that side, and installed vent covers from Lowes ($1.89 each). It was a messy job, and I was covered with insulation and sawdust. But I can tell you that our house already feels more comfortable. I really hope that does the trick. I have some other soffit vents that need new covers. I may do that next week.

Recycle Bin
I think we're going to break down and order a second recycling bin from the city. The one bin, every other week just isn't enough for us. I'll try to cut down on the amount of packaging I purchase, but there's only so far I can go.

Ron, the Bearded Dragon
We've been enjoying my youngest son's new pet lizard, Ron. He's growing so fast. Yesterday, I caught a 1.5" grasshopper on the back patio, and we put it in Ron's cage. It is simply amazing to watch how fast he can leap over and catch these insects. We watched as it took him about a minute and a half to swallow the grasshopper. Mamask8z was concerned that he might choke on it, since we normally feed him very small baby crickets.

The Kids
We're shipping the kids off to stay with my Dad. It will be a nice vacation for us. Having them home all summer is just too much for the nerves. I'm thinking year-round school may not be such a bad idea after all.

The Olympics
The Olympics in Beijing started Friday. The air quality there sucks. The President was there for the opening ceremony, and looked bored. Consensus among the folks I know is that most of us just don't care one way or the other about the Olympics. Not boycotting it, just not giving a crap.

Activia (From the "Way too much information" department.)
The first 30 years of my life, I never paid attention to my bowel movements. Now I feel like I have this adversarial relationship with my colon. I suppose it's one of those things you take for granted until it quits working right. Mine is on a work slowdown, or some other kind of job action. I'll have this urgent need to go, and be running to get there, then be utterly frustrated to only expel something the size of a green bean or a malted milk ball. Then 2 hours later, it's the same thing again.

I'm hoping that this Activia yogurt will help somehow. Supposedly it helps you be "regular". Alright, I'm giving it a try, having eaten it for about 4 days in a row now. It tastes better than prunes, and is fairly inexpensive when you buy the super-mega-pak at Costco.

In the Neighborhood
We have some new across-the-street neighbors in the rental house. I keep meaning to take a six-pack of beer over there, but haven't found the right time.

For some reason, the Lewisville police went through the neighborhood a week or two ago - about 3 in the morning, and put tickets on all the cars that were parked facing the wrong way on the street. We live in a neighborhood with wide enough streets and low enough traffic that it really hasn't been any sort of problem. We've parked for years facing the wrong way because it's easier that way. Luckily, we weren't ticketed. And we've begrudgingly began to circle the block in order to park facing the right direction.

Kit and Mamask8z
Kit and Mamask8z have been walking the neighborhood twice a day every day for the past few weeks - sometimes 4 - 5 miles a day. I think it's great that they're getting the exercise. Plus it's good training for Mamask8z for her 3 Day Walk for Breast Cancer. Again, thanks are in order to everyone who has helped Mamask8z in her efforts to raise money for breast cancer research.
Read More... | 2 comments - Rating: 0.00 (0 votes) -