Council to Take up Gas Drilling Ordinance Again Monday
Oil and Gas
Posted by WhosPlayin

on 2009/4/4 10:10:00

(

642 reads

)
After a public comment period, the Lewisville City Council is now scheduled to again take up the issue of passing proposed changes to the city's Oil and Gas drilling ordinance.

Among other things, the new ordinance would require additional landscaping, change how it regulates noise pollution, require a road usage agreement, and loosen restrictions on flaring and night-time flowback operations.

Download Citizen Comments (M.S. Word)
Download Marked-up New Ordinance (M.S. Word)

The Lewisville City Council meets at 7:00 PM in City Hall, March 6th, 2009. The Oil and Gas ordinance is item #14 in the agenda for Monday Night's meeting.

We are happy to say that the proposed changes are largely to the benefit of the citizens, without placing undue burden on oil and gas operators.

There are a few things that we would like to see changed, but it is important to go ahead and pass the changes before additional permit applications are filed.

The things I still have some issue with:

- I'm still not entirely clear on what happens to the flowback water. Probably just my over-cautiousness here, but I want it to be clear that nothing coming out of the ground, including frac water, is allowed to collect out in the open.

- The ordinance allows for a 30 day cure period for violations. I think during a 30 day drilling process, this is way too long. I thought 48 hours would be reasonable. Staff changed it to 10 days unless it presents a "risk of imminent destruction of property or injury to persons." I'm okay with that language if you add "or release of toxic or dangerous materials into the air, soil, or water, to include the water table underground."

- Chain Link fencing required. I still think that masonry fencing on permanent installations around wells or certain pipeline appurtenances may be useful for controlling noise, but I appreciate the need for inspectors and concerned citizens to have a fence they can see through. Maybe there's a way that some masonry could be used for screening in certain sites, but with sufficient openings with chain-link for ventilation, firefighting, and inspection. I guess I don't feel too strongly about this though.

- Fracking process - the fluids used can be very environmentally damaging, and the Railroad Commission allows dangerous materials like Benzene and Toluene to be used. If it should happen to find a crack somewhere and get into the water table, we're looking at damage that is virtually permanent. The federal government exempts this process from the Clean Water Act, but fracturing operations on certain federal lands are subject to a memorandum of understanding not to use certain chemicals. I'd like to see the city adopt that same M.O.U. It's a complex issue, and staff has deferred to the authority of the RRC.

- Water well testing. The ordinance specifies the driller must test water from "any" water well within a certain number of feet. I think it should be "all" instead of any. Some language was changed there, but it's still not entirely clear to me.

- The ordinance allows for a request for variance for the closed-loop mud systems. This would mean open pits full of drilling waste seeping into the environment. Personally, I think there's no excuse not to use closed-loop on every well, but if they must do it, there should be no exceptions for those near residences.

- The ordinance refers in several places to secondary containment for storage tanks. This is so that if a tank develops a leak, there is a temporary collection containment that can hold it all. The oil and gas industry likes to simply pile up a dirt dike, drop some clay soil on top of it and call it "impervious". Bullshit. Soil is not impervious, and there is no way to tell that a leak has happened and get it cleaned up, if it's simply lined with soil. The city should require plastic or metal containment that can be easily inspected and cleaned. The industry has the capability to do this, and we should hold them to it.

- Drip pots at pump-out connections.
Check out this picture:


I've been to this well. Look at how stained the bare soil is under this connection. Want to know what happens to that crap when it rains? It flows across the land and into a creek, where all the vegetation has died. I say you need to be required to keep the drip pots clean, put a concrete pad under it, and have spill cleanup materials nearby. I'm not concerned with a drop or two, but when you're pumping out thousands of gallons of waste water or condensate, even a small spill can be big. It could even contribute to a fire hazard.

- Tanks. The city wants to allow a mere 100 foot setback. Imagine your house is on the goal line, and you have a whole battery of thousands of gallon tanks on your own 33 yard line. I'd be pissed off. I just don't see how that could be safe. Want to see some of these tanks on fire?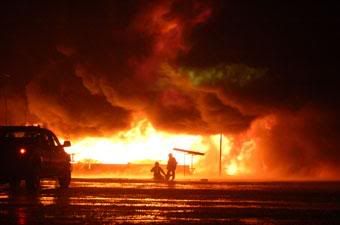 The above was in Harrison County where lightning struck a battery of 9 tanks containing "salt water". Salt water apparently burns nicely when mixed with condensate and crude oil, huh? Am I being paranoid? I sure hope so.

- Pipelines. I'd like the city to be more aggressive about pipeline equipment. Based on the ruling in the Grand Prarie case, and the dangers and nuisances involved, we should have some jurisdiction over the placement of equipment. For instance no relief valves near a protected use. When these things blow, they're loud and pose an explosion hazard. You have to have them for safety reasons, but you can be responsible about where you put them.

- Reporting of spills Although our ordinance requires cleanup of spills, it doesn't require reporting, and it's hard to enforce what you don't know about. I don't know what the threshold should be, and I'm not talking about having to make a federal case out of someone dropping a Dr. Pepper on the ground, but what if a storage tank leaks 1000 gallons of fuel or saltwater, or condensate? What about 100 gallons?

- Burial of radioactive contaminated equipment. In some cases, the Railroad Commission will allow (but not require, as I understand it) an operator to dispose of radioactive equipment by burying it on-site. Radioactive or not, I don't think we ought to allow anything to be buried on-site here in Lewisville. It's not a requirement to bury stuff, so I think we have jurisdiction here to require that an operator use other approved methods. (yes, again, I'm being overly cautious here, I hope, but apparently with the oil and gas industry, you have to spell things out.)

- Cleanup bond retention. The ordinance allows a driller to drop their bond after their drilling permit expires. I'm still not entirely convinced that a drilling permit remains active when a well is nearing the end of its life. We don't want an operator to go bankrupt and leave taxpayers on the hook for plugging the well. I just want to make sure of that.

- Provisions for public information are not sufficient. For instance, a public hearing is required for wells within 800 feet of a protected use, but the city is saying that they can't make the permit application and supporting materials available online. The city does offer to let citizens inspect the application, but to me, that's just asking for apathy. (And I'd like someone besides myself to check up on some of this stuff sometimes).

Again, just because I'm still concerned about the above doesn't mean I'm against the ordinance changes. All in all, they look good and reasonable, and the industry respondents to the city didn't have a lot of complaint. I think this ordinance is good, and I hope it will pass.
- Rating: 0.00 (0 votes) -
Previous Post:
Old Town Lewisville Candidate Forum - April 16th
- Next Post:
Therapy Time
The comments are owned by the poster. We aren't responsible for their content.