This topic is for links to relevant news, interesting websites, quick opinions and inane ponderings. Postings in this thread are considered "open-thread", meaning that anyone can post a comment on any of the articles, whether the comment relates to the post or not. If you have something random to say, this is the place.
Links, Thoughts, and Open Thread
Posted by jck142

on 2016/2/27 19:38:15

(

728 reads

)
The Friends of the Lewisville Public Library will hold their semi-annual Book Sale on March 18, 19 and 20.

The presale is Friday from 5-7 with an entry fee of $5 per person. Saturday hours are 9-5 and Sunday 1-5. We offer thousands categorized titles with a large number of children's books, mystery and reference titles Also for sale are CD's, DVD's and VHS tapes. All proceeds will benefit the Lewisville Public Library. The Library is located at 1197 W. Main Street, Lewisville, TX

Please contact friendsofthelpl@gmail.com for additional information.

Comments? - Rating: 0.00 (0 votes) -
Links, Thoughts, and Open Thread
Posted by WhosPlayin

on 2015/3/25 7:20:00

(

1107 reads

)
It's been awhile since we posted links, so some of these might be a week or two old, but I thought them better late than never:

Here are a list of bills in the Texas Legislature that seek to undermine local control. Texans are normally big on local control, but certain industries like oil and gas or loan sharks can afford lobbyists, so we see an all-out race by some legislators undo the will of the people at the local level.

Lewisville resident Patrick Booth is on a mission trip as part of The World Race. Here's a recent update from him.

The Leader's Chris Roark has a really solid article on Lewisville ISD's struggle to deal with a looming budget deficit of $35.6 million. The state continues with unfunded mandates and high-stakes testing, while simultaneously and systematically under-funding public education. I'd say this was the planned outcome by those looking to undermine, then privatize education.

Also, we mentioned this briefly in another article, but Roger Myers all but withdrew from the LISD board race against Trisha Sheffield, leaving just one race in play.

It's a bit dated by now, but earlier this month, Denton Record Chronicle's Peggy Heinkel-Wolfe had a great article about the region's drought, and reservoir levels. As of 5 a.m., Lewisville Lake sat at 517.92 feet, or just a little more than 4 feet below conservation pool. We're doing much better than we were last month. Lewisville Deputy Mayor Pro Tem Neil Ferguson shared this letter this morning:

"Attached for your information and use is copy of a memorandum from Mr. Mark McDaniel, Assistant City Manager, City of Dallas, to the Mayor and the Dallas City Council regarding Drought Update.

Dallas will not implement Stage 1 of its Drought Plan on April 1, 2015 as we'd originally anticipated in January 2015. Since January 2015, we have seen a significant improvement (>10% increase) in total water supplies to 76.34% remaining as of March 18, 2015. Our models now project that Dallas may enter Stage 1 of the Drought Management Plan as early as late summer 2015 if drought conditions persist. Dallas will continue to monitor the ongoing drought conditions and provide you with periodic updates on the status of our water supply.

We are thankful for the water management efforts of all of the wholesale customers and appreciate your continued support.

Please let me know if you have any questions or need additional information.

Best Regards,
Jacqueline (Jackie) Culton, P.E., Program Manager
Wholesale Services Division
City of Dallas/Water Utilities Department"

Lewisville purchases all of its water from Dallas, so this is good news.

The talk of the town, with a record-breaking 566 comments on the City of Lewisville Facebook group has been that Vista Ridge Mall appears headed for foreclosure. Most folks saw the DMN blog about it, but The Dallas Business Journal has a pretty informative article about it. The long and short of it is that the mall doesn't earn enough from rents to cover its debt service payments.

Ex-pastor Jeffrey Dale Williams, formerly of The Church of Corinth was sentenced to probation after pleading guilty to "injury to a child". He spent two hours trying to persuade a young girl to take off her clothes in 2013, and the whole thing ended up being audiotaped. Be sure to read the comments for some additional background.

Neighbors Go's Adam Schrader has an article about a group of Lewisville High School students helping senior citizens learn how to operate iPads.

A Lewisville woman is out $4,000 after her tax preparer stole her refund.

Ten scientific ideas that scientists wish you would stop misusing

Lynyrd Skynyrd will be playing at Lewisville's Western Days festival this year. The festival is Friday, September 25th and Saturday, September 26th, 2015.

Global investment firm KKR is acquiring Lewisville-based Air Medical Group Holdings. Reuters reported the deal was worth about $2 billion.

Comments? - Rating: 0.00 (0 votes) -
Links, Thoughts, and Open Thread
Posted by LewisvilleTexan

on 2015/3/1 22:30:00

(

1245 reads

)
Lewisville PD's Tip411 service to replace eAlerts March 15
Lewisville Police Department's eAlert service will be discontinued on March 15. Residents who have not signed up for the new Tip411 service will no longer receive Lewisville Police eAlerts after that date.

Tip411 was adopted by Lewisville Police Department in October as a way for residents to provide anonymous tips through text, email or a downloadable app for Android or Apple smartphones. Tip411 also offers a way to keep the community connected and informed through email, text message and online public safety alerts.

Interested persons can register to receive alerts from Lewisville Police Department via email and/or text message to their cell phone by signing up to receive alerts about public safety information and announcements. Using Tip411 to replace the eAlert system also allows users to manage their own subscriptions to the service.
Community members are encouraged to sign up or manage their account online by visiting Tip411


---
Great Texas Warrant Roundup starts March 7
Representatives of law enforcement agencies and courts from more than 300 jurisdictions across Texas, including Lewisville, have announced combined efforts to host the ninth annual Great Texas Warrant Roundup beginning March 7.

The roundup is designed to target thousands of defendants with traffic, parking, city ordinance, penal code and higher charge warrants from participating jurisdictions. It is believed to be the largest joint operation of its kind with arrests expected to continue for several days. Hundreds of thousands of notices were recently mailed statewide by participating entities.

Anyone who believes they have an outstanding warrant is urged to contact the appropriate jurisdiction or jurisdictions to dispose of their cases voluntarily and avoid the inconvenience of arrest at home or work. Lewisville Municipal Court can be contacted at 972.219.3436. You can look at the active warrant list for Lewisville here.

Do not send another person to pay your fines. People are subject to arrest until their payment has been accepted by the court and properly posted. Checks are not accepted. Payments will be accepted in cash, money order, Master Card or Visa. Pay online at cityoflewisville.com.


---
Simmons Files Bill to Name Bridge for Bobbie Mitchell
State Representative Ron Simmons filed a bill to designate the I-35 bridge over Lewisville Lake as the Bobbie J. Mitchell Bridge. Mitchell currently serves as the Precinct 3 Denton County Commissioner and was a former mayor of Lewisville. You can read the bill here.


---
City partners with UNT to reach sustainability goals
The City of Lewisville has partnered with University of North Texas to conduct a resource and efficiency assessment for city facilities – a significant step in implementing recommendations of the Lewisville 2025 vision plan adopted last year.

The community identified sustainability as a key area of focus while helping develop the Lewisville 2025 plan, and the city is committed to properly managing the environmental impact of its own facilities and operations.

The assessment of existing city sites, facilities and vehicle fleet will identify the potential for more efficient energy and water use, on-site energy generation and water collection, and site enhancements that will help residents and customers access services and facilities more conveniently. Information gathered during this study, and the resulting recommendations, will provide the basis for development of realistic solutions to reduce resource use and achieve cost savings.

UNT Sustainability was established in 2009, and since that time it has integrated sustainability principles and concepts into every aspect of the university's infrastructure. UNT founded its Sustainable Communities Initiative to share the benefits of its experiences and expertise by providing support to communities seeking to become more sustainable.


---
Lewisville student participates in 34th annual Texas Scottish Rite Hospital for Children Amputee Ski Trip
Selam Rinkevich, 16, of Lewisville, attended the Texas Scottish Rite Amputee Ski Trip for the second time. Selam was born in Ethiopia and suffered burns as a baby, resulting in the need to have her leg amputated. Texas Scottish Rite Hospital for Children has given her the ability to be a kid and participate in normal activities girls her age like to do, such as running. She absolutely loves to read, as well as make new friends, which she looks forward to doing on the trip.


Read More... | 9184 bytes more | Comments? - Rating: 0.00 (0 votes) -
Links, Thoughts, and Open Thread
Posted by LewisvilleTexan

on 2015/2/11 9:00:00

(

1098 reads

)
We don't always have the time to cover every newsworthy story in our city, but we do like to share links to stories that we think would be interesting to our readers. Here are some that we've been reading:

Many Lewisville residents get their cable television, telephone, and internet service from Verizon. Sometime next year, Frontier Communications Corporation will take over Verizon's business in this market.

There has been a lot of talk about vaccines recently, as measles has re-emerged in the United States. There has been a fair amount of controversy over parents who refuse to vaccinate their children due to non-medical reasons. The Texas Tribune did an investigation of the rates of non-medical vaccine exemption in Texas School districts. Denton ISD came in pretty high at 12.4% non-medical exemption, while Lewisville ISD has a very respectable 1.18%. (Update: Denton ISD says its number was a mistake.)

Lewisville Fire Department has announced it's 2015 Keeping Tradition Alive Honor Guard, Pipes & Drums Symposium will take place on May 7th and 8th. The public jam and concert at City Hall will be held on Friday, May 8th, and they intend to bring back the Killdares to perform.

Lewisville and Coppell are working together on the reconstruction of the intersection of Lake Vista Drive and MacArthur, which is in Lewisville, but is highly used by Coppell residents in their commutes.

This is really going to happen. For real. They promise. Commence holding your breath now.

The Dallas Morning News has a special project called Transparency 2015, where they rated the overall transparency of governmental agencies in the area. The City of Lewisville scored an "A" rating with 96.2%. We agree with the score, and will note that the City of Lewisville is usually prompt and courteous, and seems to hold transparency as a core value. Lewisville ISD earned a "B" with 88.5%, mostly due to poor web customer service, and a failure to post online meeting notices. Longtime readers will note that The Lewisville Texan Journal has criticized LISD on these items before. While it is getting better, it has a way to go.

Worldpac Inc., an auto parts distributor, has opened a regional distribution center in Lewisville.

Rep Michael Burgess (R, Lewisville), along with Rep Crhis Van Hollen (D, Maryland) have introduced the Advancing Research for Neurological Diseases Act (H.R. 292)

Lewisville hired Yolanda Wilson as neighborhood services coordinator. The Lewisville Leader has more on what she'll be doing.

Flower Mound Councilman Bryan Webb wants the town to do something different to bring in more young families.

Here's a nice piece about Lewisville sculptor Ken Wheatley.

Lewisville firefighter Andy Allison had a nice retirement ceremony.

Baha'i Faith Center in Lewisville got a new playground.

Courtney Marlow, a junior at Lewisville High School earned her Girl Scout Gold Award.

The Town of Flower Mound received a grant to help with construction of a new lane at Gerault and FM 2499.

A teen brought a fake gun to LHS' Harmon campus, and got in some trouble.

State Rep. Ron Simmons would like to hear your thoughts on allowing the open carry of handguns in the State of Texas. He asks citizens to contact him and let him know if the legislature should pass open carry with a required license, without a required license, not at all, or something else. You can email him here.

ULTA Beauty is opening a new store in Lewisville.

The Big D Stair Climb raised funds to fight leukemia, and Lewisville city employees took part. The event this year honored Lewisville Fire Chief Tim Tittle, who himself battled leukemia.

Comments? - Rating: 0.00 (0 votes) -
Links, Thoughts, and Open Thread
Posted by LewisvilleTexan

on 2015/2/8 0:47:43

(

1529 reads

)
Chalk This Way! Festival looking for art vendors
Lakeside Arts Foundation is seeking fine art vendors for the Chalk This Way! Sidewalk Art Festival, sponsored by Greater Lewisville Arts Alliance and the City of Lewisville, on May 9. The event will be held from 9 a.m. to 6 p.m. outside the Medical Center of Lewisville Grand Theater, 100 N. Charles Street, in historic Old Town Lewisville.

Booths are $60 for fine art vendors selling original works of art or hand-crafted gifts and decorative items. Booths for nonprofit organizations are $30. Booths for food vendors and community and business vendors are $75 per space.

Admission is free to the event but there is a charge for some of the activities. The day-long event will feature professional chalk artists, amateur chalk art contest, scholarship contest, a children's non-competitive gallery, art, food and drink vendors, music and a variety of entertainment.

Details, rules, vendor forms and entry forms are available online at chalkthisway.org. For more information, contact Lakeside Arts Foundation at 972.625.1726 or email president@lakesidearts.org.


Central Elementary's Babino Named Lewisville Chamber Educator of the Year
Bilingual LEAP Teacher Gets New Car; Borenstein, Hadley Honored as Finalists

The Lewisville Area Chamber of Commerce named Central Elementary Bilingual Learning Enrichment Academic Program (LEAP) Teacher Alexandra "Ale" Babino as 2014 Educator of the Year at its Annual Awards Luncheon Jan. 27 at Hilton Garden Inn Lewisville.

"The Lewisville Area Chamber of Commerce and the more than 700 members it represents understands that education is one of the most important segments of a healthy business community," Chamber President Ray Hernandez said. "Ale Babino was an excellent choice for Educator of the Year because of her ongoing commitment to providing and expecting excellence in the classroom.

Babino was one of three finalists for the inaugural award, joining Lewisville High School Social Studies Teacher Robert Borenstein and Huffines Middle School 8th Grade English Teacher Jennifer Hadley. They were selected by Chamber representatives from the pool of 22 Lewisville ISD (LISD) Central Zone campus teachers of the year. The trio then replied to a questionnaire, including answering the question, "How have you changed children's lives as an educator? Read more...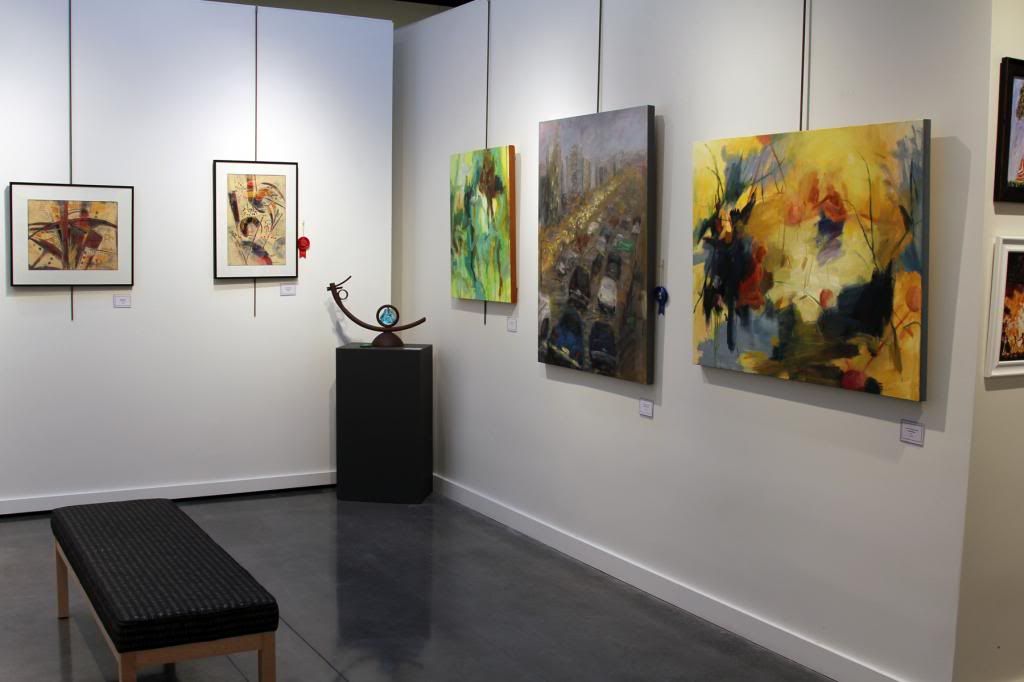 MCL Grand art gallery extends hours
Starting Tuesday, Feb. 10, operating hours for the art gallery at Medical Center of Lewisville Grand Theater, 100 N. Charles Street, will be extended to 10 a.m. to 5 p.m., Tuesday through Saturday. Previously, the gallery was not open until 1 p.m.
MCL Grand is the premier public arts facility in Southern Denton County. The 40,000-square-foot facility features a 296-seat proscenium theater, black box theater, dance recital hall, art gallery, five art classrooms and a large courtyard. Medical Center of Lewisville has a multi-year naming rights agreement for the city-owned facility.


Railroad Street to be closed for repairs until April
Railroad Street will be closed for repairs from Hebron Parkway to the entrance of DFW Landfill at 1600 S. Railroad Street. The street will be closed beginning Monday, Feb. 16, and will remain closed through Monday, April 13, weather permitting.

Access to Railroad Street will be available from Hebron Parkway via Lake Pointe to Corporate Drive. The detour route will be marked, and access to the DFW Landfill will be available from the north via Corporate Drive, Bennett Lane or State Highway 121 Business.
For information, contact the Street Division at 972.219.3510.

Library conducting online survey
Lewisville Public Library will conduct an online survey through Feb. 28 to find out how residents use the library, collections, computers and space, as well as what changes and improvements visitors would like to see at the library.

The Lewisville Public Library Board will incorporate the responses to the survey into a new Library Strategic Plan to guide future services and funding. The survey is available at cityoflewisville.com, as well as on computers in the library.


Vaughn appointed to National League of Cities committee
Lewisville City Councilman Leroy Vaughn has been appointed to the 2015 Finance, Administration and Intergovernmental Relations Steering Committee for the National League of Cities.
Vaughn is one of only two members appointed from Texas. As a member of the committee, he will play a key role in shaping NLC's policy positions and advocate on behalf of America's cities and towns before Congress, with federal agencies, and at home.

This committee has the lead responsibility for developing NLC federal policy positions on issues involving national economic policy, general financial assistance programs, liability insurance, intergovernmental relations, census, municipal bonds and capital finance, municipal management, antitrust issues, citizen participation and civil rights, labor relations, Native American sovereignty and municipal authority. The appointment was announced by NLC President Ralph E. Becker, mayor of Salt Lake City, Utah.

For more information on NLC's other committees and councils, visit nlc.org.
National League of Cities is dedicated to helping city leaders build better communities. NLC is a resource and advocate for 19,000 cities, towns and villages, representing more than 218 million Americans.


Lewisville Police Department announces third-quarter accolades
Lewisville Police Department named Officer Duk Lee as Officer of the Third Quarter 2014, and Virginia Fisher as Civilian of the Third Quarter 2014. Both employees were recognized for their outstanding job performance. Photo at right: Chief Kerbow is shown with Duk Lee (left) and Virginia Fisher (right photo)


Simmons Reports Committee Assignments
The Texas House of Representatives committee assignments were released Wednesday, and Rep. Ron Simmons (R, Carrollton) reports that he has been appointed to the House Transportation Committee and the House Business & Industry Committee. "I am especially honored to have been named Vice Chairman of the Business & Industry Committee," he said.

The Business & Industry Committee has jurisdiction over matters pertaining to industry and manufacturing, identity theft, relationships between employers and employees, oversight of the construction industry, and several other related matters

This article contains material from submitted reports
Comments? - Rating: 0.00 (0 votes) -
Links, Thoughts, and Open Thread
Posted by LewisvilleTexan

on 2015/1/26 20:32:45

(

1096 reads

)
The following items are included on this week's Lewisville Police Chief's update:

Attempted Burglary of a Building
On Saturday the 24th just before 4:00 a.m., Patrol officers were dispatched to an alarm call at a convenience store in the 900 block of Valley Ridge. Suspects had backed a pick-up truck into the store and attempted to steal the ATM by pulling it out with a chain. They were unsuccessful and fled prior to officers' arrival. The pick-up truck was discovered abandoned by officers in an apartment complex next door. The truck appears to be stolen, but we have been unable to locate the registered owner.

Driver Arrested for Possession of Hashish
On Friday, the 23rd at approximately 9:30 p.m., Officers O'Hare and Gilleland observed a parked, unattended vehicle at the convenience store in the 1000 block of West Round Grove. The vehicle's engine was running yet no one was around. The officers waited for the driver to return and contacted him about the violation. As the driver, a 22-year-old, was retrieving a document from inside the vehicle, the officers observed drug paraphernalia in the console. Officer Menz and canine "Immo" responded to assist in the search of the vehicle. Canine "Immo" alerted to the vehicle. Officers located approximately 27 grams of hashish in the vehicle. Officers arrested the suspect for Possession of a Controlled Substance in Penalty Group Two (four grams or more, but less than 400 grams).

Traffic Stop Leads to Narcotics and Weapons Arrest
Officer Limon Stopped a pick-up truck on Saturday evening the 24th because the driver was not wearing his seatbelt. The 19-year-old driver also was unable to display a driver's license. He was arrested on these charges. During an inventory of the vehicle prior to it being towed, officers discovered six pistols. They also found marijuana and bongs as well as 31 grams of cocaine. The suspect was also charged with Unlawful Carrying of a Weapon, Possession of Marijuana Under 2 Ounces, and Manufacture or Delivery of Controlled Substance Penalty Group one Over 4 grams.

Blotter: Arrests in Lewisville in the past week...
Comments? - Rating: 0.00 (0 votes) -
Links, Thoughts, and Open Thread
Posted by WhosPlayin

on 2014/11/23 12:30:00

(

1606 reads

)
Once again, it's been a couple weeks since we posted an update with links. They've piled up lately.

On Thursday, we will celebrate Thanksgiving, but in the days before, celebrate Friendsgiving. We appreciate all of our friends here at LTJ; especially those who have taken the time to chip in a few bucks. It's that time of year when a whole bunch of bills come due for hosting, domain names, and so forth, so we really appreciate that you've helped us just about hit our goal.

I've been busy lately reading up on Texas local government laws and election laws, trying to get some background before Lewisville's Charter Review committee gets under way in January. I'll be on that committee. I don't really have a change agenda in mind, and am not 100% sold on anything at this point, but I am concerned about how our city government continues to operate in a unified way once Castle Hills is annexed, and the remainder of growth happens on the east side of town. Single member council districts are an option, if we want, but they do carry their own problems, so I'm trying to think outside the box and figure out a way that every area of the city can have proportional representation, and decisions can continue to be made for the benefit of the city as a whole. I have spent some time studying the way other cities do things, and I've probably picked up more in the way of what not to do. We have it pretty good here, and I hope to keep it that way.

I am interested in any input anyone has on this, one way or the other.

Lewisville is the rated as the 15th most-connected city in the United States, and the 77th fastest-growing city.

Speaking of growth, 4,000 apartments will be coming to Castle Hills.

Lewisville's Blue Ribbon Bond Committee has been meeting frequently to consider the city's backlog of capital projects, and how they can be funded. The city's remaining bond authority is expired, so with all this growth coming on, we can either allow our infrastructure to deteriorate more while we save our pennies up to do these projects years from now, or we can float bonds and enjoy the improvements and increases in property value sooner. Another plus with bonds is that in a growth situation, you are letting the new residents share in the cost of the infrastructure you are having to build to accommodate them.

Here is the latest 35Express update newsletter.

Speaking of I-35, here is Lewisville's I-35 Corridor plan. It's about 30mb. Here is a shorter presentation.

The Denton Record Chronicle has an article about the plaza under construction in Old Town. The City Council just voted to name the whole thing The Wayne Ferguson Plaza. On Facebook, however, the Dirt Pile thinks it should be called Dirt Pile Park.

Here is a nice article about Verland "Scott" Johansen, who was shot and killed in Lewisville in September for no good reason.

Richardson ISD has a separate 9th grade campus for their high school, but is thinking about undoing that and moving the ninth graders back into the high school.

Denton is getting sued over its voter-passed ban on hydraulic fracturing. The suit is expected, but we will have to see what the courts say about Denton's right to ban the practice.

Calendars for LISD for 2015/16 school year.

Lewisville firefighters recently rescued a dog stuck in a drain.

Flower Mound basketball player Lauren Cox is the #1 recruit in the nation.

Here's an interesting article about Oncor wanting to install batteries in the power grid.

Burnt Orange Report has a nice little graph showing how Texans really voted in the general election earlier this month.

Some people just cannot seem to wrap their heads around the difference between fact and fantasy, science and quackery.

Chronic Pot Smoking Associated With Reduced Gray Matter, But Increased Connections

Lewisville resident Patrick Booth is participating in the World Race, visiting 11 countries in 11 months. The World Race is a mission trip where participants abandon their worldly possessions and go out to help others. We wish Patrick safe travels, and will check in on him from time to time.

Creepy new musical instrument: the Yaybahar

Massey Energy CEO Don Blankenship was indicted over the 2010 Big Branch coal mine disaster.

LISD Superintendent Dr. Steve Waddell went to the National Connected Superintendents Summit at the White House.

Speaking of Dr. Waddell, the Denton Record Chronicle has a nice story about his upcoming retirement, and LISDs search for a new superintendent.

For the first time, a prosecutor will go to jail for wrongly convicting an innocent man.

Vista Ridge Mall is not in great financial shape, according to this Dallas Morning News article. Along with Collin Creek Mall in Plano, it could end up going back to the lenders. Collin Creek is in worse shape than Vista Ridge though, according to the article.

A Lewisville company was awarded $23.6 million in a patent infringement case against Apple. What do you think? Innovators who deserve to be compensated, or patent trolls cashing in on obvious ideas that were not worthy of patents to begin with?

Income inequality is getting worse. The United States is going into a new gilded age. To be clear, nobody is calling for an equal distribution of income, but what is bad for the economy and bad for America is a system where hard work and innovation is not rewarded to the same extent as being born rich, or being a Wall Street parasite. Upward mobility is limited, and we are becoming a plutocracy. The best illustration I can think of is the old joke: "A CEO, a manager, and a union worker are sitting at a table, and there is a box of a dozen Twinkies. The CEO immediately grabs 11 of the Twinkies, and tells the manager: 'You better watch out for that union guy; he wants half of your Twinkie!'"

Idiocy. US Rep Michael Burgess (R, Lewisville) would like the EPA to hear more from paid representatives of polluters, and less from actual peer-reviewed scientists.

The Lewisville High School student council is once again sponsoring its Adopt-an-Angel program. Needy students from schools throughout LISD are identified by counselors, and each student has a few things they need or want - like clothing and a toy or two. You can adopt one of these students and wrap up a gift for them to return to LHS by 12/10 for delivery to the students on 12/11. You can view the list of students and their wish lists, and choose one to adopt here.

Lewisville ISD would like residents to fill out a survey to help it figure out what should be in an LISD graduate profile. This profile will define the most important skills, attitudes and habits of mind that students will have when they graduate from LISD schools.

The City of Lewisville has just updated the Western Days Facebook page with a plethora of performance videos, and is continuing to add more.

Veterans who have to wait more than 30 days for care at a VA facility can now get Choice Cards that may allow them to receive care from private providers at VA expense.

Read More... | 15591 bytes more | Comments? - Rating: 0.00 (0 votes) -
Links, Thoughts, and Open Thread
Posted by WhosPlayin

on 2014/11/2 11:22:35

(

1553 reads

)
According to the National Weather Service, the DFW area has had only 18.06 inches of rain this year. The normal value by this point is 31 inches. Governor Perry has extended the drought proclamation. As of this morning, Lewisville Lake was at 514.73 feet surface elevation, or 7.28 feet below conservation pool.

Rain is expected for Tuesday, which is election day. Unfortunately, there are some people out there who will use that as an excuse not to go to the polls and vote. It's okay though, I mean people have given their lives, and fought the good fight for you to have the right to vote, but you can't be expected to get your hair wet. And it's not like everyone, including LTJ, has been begging you to go early vote because it's so much more convenient, and anything can happen on election day.

"Artist" Casey Nocket permanently defaced natural objects in national parks, and put them on instagram. She used acrylic paint instead of something temporary like chalk.

Ladies and gentlemen: Douchebags. We share not so much because we think there needs to be a slur, but because this sheds some light on what makes an insult hurt. Most white people would laugh off an insult like "honky" or "cracker," because there is just no sting to it. Being called a douchebag would sting because you would have a pretty good understanding of what you are being lumped in with. The takeaway from this, I think is not that you need to go around calling people douchebags, but that we all need to try to examine our points of privilege and not be douchebags.

Tarrant County is not as red as they think.

Flower Mound will get its first hotel. In the past few years, the Town of Flower Mound has taken an aggressive and reasonable approach to attracting development and bringing in business. I see them as a threat to Lewisville's local dominance of the commercial space. Of course, there are still those in Flower Mound who are vocal about wanting to slam the doors shut on any development that takes place after they moved in. We will see what happens, but I very much like it that much of the sales tax revenue in Lewisville comes from residents of Flower Mound and other local cities. If Lewisville stands still, we fall behind. That's why I'm grateful there is a lot going on in Lewisville. For example, Myers & Crow is building yet another large office building in the Lakeside business park. It will be 81,000 square feet. This is supposedly the last building that the development has room for.

Well, bless his heart... Trey Radel, a Republican US Rep who voted for legislation to require food stamp recipients to be drug tested, was busted for cocaine possession.

LISD Insights with Dr. Steve Waddell

In Denton, iconic Frenchy's Lawn and Tree is being told by city code enforcement that he has too many American flags. Under city code, a business is allowed to display one American flag, one Texas flag, and one other flag on their property. While I understand the need to limit commercial signage, and have some control over what is presented to the public along roadways, I join a lot of others in Denton and support what Frenchy does with his flags and using his trucks as billboards to promote local events and congratulate people. I hope the City of Denton will find a way to tweak the ordinance to let him continue.

Lewisville's Old Town Barber Shop closed.

When a bully at DFW airport tried to attack a man he thought to be gay, bystanders jumped in and stopped him.

The Fighting Farmers football team staged an awesome comeback to beat Plano East a couple weeks ago, 58-56. But Friday night, they lost to McKinney Boyd 31-17. This coming Friday, they play Plano here in Lewisville.

From NPR: "TLC's 'Honey Boo Boo' Cancellation Shows Dangers Of Exploitative TV"

A small scale organic farmers wants you to know a few things.

Here is a pretty distressing report by ProPublica about the American Red Cross' purported failure at responding to hurricanes Isaac and Sandy. The Red Cross leadership allegedly failed to connect resources to people in need, and seemed to be more concerned about appearances and PR than providing actual relief - in some cases using critically needed response vehicles as props in press conferences. The Red Cross has responded to the story, and it is worth a read. Some of the responses are comforting, but others just seem weak. What we hope is that everyone involved learns something from those disasters and does a better job next time around. This is also a good reminder that we all need to take responsibility for our own preparations in advance of emergencies and disasters. Our family has our kit put together, and we need to periodically check it to make sure it's still ready.

Speaking of hurricanes, do you know that a poll of Louisiana Republicans found that 29 percent of them think President Obama was responsible for the response to Katrina? The stupid is so strong, it burns.

If you follow us on Facebook, you probably saw the pictures we posted of the Elm Fork of the Trinity River when the dam had been shut off, and it was dry. A writer at DFW Urban Wildlife took the time to document the situation and its impact on wildlife.

Most of us middle-class working folks in suburbia who drive cars, have no problems producing an ID to vote, but there are many situations where it can be expensive and burdensome to obtain it. My thinking is that it ought to be free. Texas also has some really ridiculous and unnecessary requirements, such as rejecting other perfectly legal and secure forms of ID, requiring that IDs not be more than 60 days expired, and charging for birth certificates that the state keeps in their computer systems. The so-called "free" voter ID actually requires that you pay the State of Texas (if you were born here) to produce a birth certificate. Why doesn't the DPS just hook into the state's computer system and check it themselves? You know why. Why do they require a drivers license be no more than 60 days expired? Do you cease being yourself when it expires, or does your driving privilege just end? You know why this ridiculous requirement is in place.

Justice Ginsberg's dissent in the voter ID case.

Music Video of the Week: Ingrid Michaelson - "Afterlife"

Comments? - Rating: 0.00 (0 votes) -
Links, Thoughts, and Open Thread
Posted by WhosPlayin

on 2014/10/19 21:51:40

(

1253 reads

)
Sunday was a gorgeous day, and an even more beautiful morning. I was up on top of the Lewisville Dam, looking out over Lewisville Lake on the left, and LLELA on the right. By all accounts, the inaugural year of That Dam Half - a half-marathon (13.1 miles) was a great success. 1200 runners were registered for the run, most of whom were for the half-marathon on the dam, and some of whom ran the 5k. We've heard nothing but great things from those who attended. I was a volunteer at the water station at mile 8, but truthfully I would have done almost any job just to have the opportunity to legally be up there, since it's normally strictly off-limits to the public. I got a lot of great shots that I will be posting here and on our Facebook photos page.

Speaking of the lake, the quick update is that recent rains added a couple of inches to the lake level, which has since gone back down to 515.16 feet. This is about 7 feet below conservation pool. The hope is that we can get a lot of rain over the winter, which is expected to be wetter than average, and maybe get it filled back up to the 522 mark.

Plano West beat the Lewisville Farmers Friday night 55-22.

Not applicable to Lewisville, but one candidate for Texas House in district 94 thinks the U.S. should invade Mexico.

Sarah Blaine explains why testing vendor Pearson's wrong answer on her child's homework worksheet matters in the high-stakes testing era.

Dallas Morning news has an article about Badgers BBQ - a barbecue restaurant that caters to public safety officers. (Civilians can eat there too.)

You may have heard that a federal judge recently ruled Texas' voter ID law unconstitutional. Greg Abbott is appealing, and without overturning the ruling, the Supreme Court has allowed the law to remain in place for this election. The Lead Counsel for the plaintiffs in the case answers six questions about the voter ID suit. My opinion on voter ID laws has not changed.

If you have used your credit card at the Dairy Queen in Lewisville, you may want to check your statement. The company was hit by a hacker, who gained access to customer names, credit card numbers, and expiration dates.

The Lewisville Leader has an article about T-Ronn Hicks, hosting "The World's Largest Anti-Bullying Party" on October 25th at Lewisville High School Harmon Campus.

Campus ratings for the three LHS campuses:
- LHS Harmon Campus
- LHS Main Campus
- LHS Killough Campus

I was bummed to be out of town on business on the night of the Lewisville Homecoming Parade, but via Lewisville ISD, here are some pictures from the parade and the Community Pep Rally:

The Lewisville City Council did finally approve a new school zone in front of the LHS Ben Harmon campus on FM 3040. The zone will be a continuous 35 mph zone from 300 feet east of Old Orchard Lane to 300 feet west of Valley Parkway. The Lewisville Police Department has warned of increased enforcement against jaywalking in that area.

Lewisville-based med fusion is teaming up with another firm to optimize cancer treatment strategies.

Video of Kevin Fowler at Western Days

Some were outraged at Wendy Davis's campaign commercial pointing out hypocrisy with Greg Abbott. I thought it was fair shot. She wasn't attacking his disability, but the fact that he got quite a hefty settlement for his own injury, then spent a career trying to prevent others from obtaining their own justice.

Dawn Cobb has a nice story about four boys in Highland Village who were walking home from school one day and found a bicyclist who had fallen and had a head injury. The quick thinking of Joshua Smithwick, Elia Mata, John Wegendt and Aiden Cooper led to the man's rescue.

The North Central Texas Council of Governments (NTCOG) has awarded funding of $28 million in its Transportation Alternatives Program, which funds pedestrian and bike trails, and non-driver access to public transportation projects. Lewisville is receiving $1.5 million for Approximately 4.2 miles of shared-use paths, sidewalk, and on-street bike lanes from the North Garden Ridge Boulevard interchange at IH 35E southward to North Valley Parkway and West Main Street.

Lewisville Morning Rotary will conduct a flag retirement ceremony at the MCL Grand Theater in Lewisville at 1 p.m. on Saturday, October 25th. Community members can bring their worn or torn flags to be destroyed appropriately.

First United Methodist Church of Lewisville postponed a mission trip due to the Ebola outbreak in Sierra Leone.

A Dallas man who works at NationStar mortgage in Lewisville is in isolation after spending time with nurse Amber Vinson, who contracted ebola at work. There is no indication that anyone is at risk.

Denton County Health Department - Ebola Information


Read More... | 2 comments - Rating: 0.00 (0 votes) -
Links, Thoughts, and Open Thread
Posted by WhosPlayin

on 2014/10/4 9:23:36

(

2300 reads

)
Today is the Jewish holiday of Yom Kippur, or day of atonement.

Thursday's rain was great, wasn't it? The sky was so dark, and the wind was ferocious. It was brief, but it came down hard. Our readers reported receiving from .25 to 1.25 inches, but NWS rainfall totals showed around .5 inch average for our area. Lewisville Lake rose a little over an inch, putting us at 515.3 feet, which is almost 7 feet below conservation pool. We desperately need to catch up on rain over the Fall and Winter months.

The Lewisville High School Homecoming is next week. The Parade in Old Town Lewisville is set for Wednesday, October. 8th, and the football game is Friday, October 10th

Winston Edmondson writes about Facebook's plans to launch a fleet of drones that will provide internet access.

Lewisville Fire Department open house is on October 11th.

Don't forget about the Spirit of Old Town photo contest, which is on display until October 25th at Tierney's.

The film "Race to Nowhere" identifies and challenges a 'one-size-fits-all' achievement culture in American schools and documents its impact on students.
Here is the trailer.

A very poor decision by a teacher's aide to use a special-needs girl as rape bait unsurprisingly results in rape.

A pedestrian was struck by a van at Corporate and SH 121 Business.

Did you hear about the People's Climate March? Probably not.

Calvin Tillman says Texas should reform eminent domain laws.

The southern states are now the epicenter of HIV/AIDS.

A report says that between 40 - 60% of US K-12 schools could actually profit from installing solar panels. I think a district like LISD could do well with them. An upfront investment with dirt-cheap money from the non-Robin-Hoodable bond funds could result in a big savings from the very limited maintenance and operations fund.

Fitch assigned LISD's 2014A series bonds a 'AAA' rating.

Former Flower Mound Mayor Melissa Northern was fined $100 over campaign finance violations from 2012 and 2013.

You may have seen this article about the U.S. Forest Service implementing a policy requiring a permit for taking pictures. When I first read it, I have to admit that my blood pressure was elevated. But here are 7 things you should know about the policy, and here is an article that explains why it won't apply to you. Here is the news release from the Forest Service explaining the policy and promising that they are going to uphold the first amendment.

An independent audit was performed on Governor Perry's Texas Enterprise Fund. Dallas Morning News notes that almost a quarter of a billion dollars of taxpayer money were given out with incomplete, missing, or informal applications. Attorney General Greg Abbott, who should have been providing oversight, was not only absent, but worked actively to cover up the grants by directing that the records be withheld from the public.

Speaking of audits, a state audit is bad news for the University of North Texas, which had been improperly using state funds for employee benefits and salaries since the 1970s. The University may be on the hook for repaying almost $76 million.

Kindness - pass it on!

Cross Timbers Gazette has an article about changes in STAAR testing for 3rd - 8th grade students.

Lewisville-based incentives company Parago Inc, is being acquired for $290 million by Blackhawk Networks.

Lewisville's football team recently beat Hebron for the first time.

Medical Center of Lewisville is building a new emergency room.

Awhile back we wrote about a neighborhood dealing with problems with crime and litter. Tom Boughton, the man we featured in the article, was nominated and a finalist for Nextdoor's good neighbor award. The neighborhood does continue to deal with problems. One day when I went out to take some followup pictures, I found a bag of marijuana on the sidewalk, and ample evidence of its use within the playground area at Hedrick Estates park.

The Marine Corps Birthday Ball is an annual tradition to celebrate the birthday of the USMC on 10 November, 1775. This year in Denton County, the LCpl Jacob R. Lugo detachment of the Marine Corps League will hold its ball on November 15th at the Gateway Center at UNT. I wish I could go this year, but I'll be at my brother's wedding.

Apparently there is a tradition at Lewisville High School that has been in place for a number of years, where marching band students sing the Lord's Prayer before the football games. A parent reported on Facebook (since deleted) that her child was told the students can no longer do that. Queue the huge argument where Christians pretend they are persecuted when all of society and its institutions are not allowed to institute religious acts, and where people blame society's problems on a lack of prayer in the schools. You can also queue those on the other side whose opinions range from nasty attacks to "I'm a Christian too, but this isn't appropriate for school." Texas House District 63 candidate for State Representative Daniel Moran, who is an atheist weighed in with this column.

I reached out to LISD to get the story, and this is what they had to say:

"About a month ago, two parents emailed through the Let's Talk section on the district¹s website and shared concerns about students reciting the Lord¹s Prayer prior to the LHS band¹s performance.

The district looked into these concerns and learned that reciting the Lord¹s Prayer has been a long-standing tradition that started prior to the current band director joining LHS. The district shared that reciting the Lord's Prayer must be student-driven. If students would like to gather and pray or recite the Lord's Prayer before their band performance, they may do so. Reciting the Lord's Prayer can't be mandatory.

I have no problems with this. The requirement that it be student-led is in conformance with prior court decisions. That ensures that there is no pressure from our taxpayer-funded teachers for students to join in if they are uncomfortable. And lest you think that only atheists and others worthy of contempt would object, you might want to read Matthew 6, where Jesus warns against public prayer as a show of false righteousness, and says that people should go off in private to pray. It's the same place where Jesus gives the Lord's Prayer as an example of how one might pray. Yet, as Christians, we effectively ignored the jist of what he was trying to say, and took to reciting it by rote as a public display.

Yes, it took a couple days for me to get the answer about the situation directly from the district, since this happened on Friday, and it took until Monday to get the answer. But these days, it's no fun for people to wait. Instead, get on Facebook and start throwing bombs. Ruin someone's reputation by accusing them of violating someone's civil rights. Sadly, this has been too common lately on the City of Lewisville Facebook group, with people publicly complaining about situations they should first try to take care of directly. At other times, it's public shaming - even going so far as to post photos of drivers they feel have transgressed.

I'm just going to say it: We live in a very wussified society. Case #1: "How letting my kid play along outside led to a CPS investigation". Case #2: Man stops his truck to talk to his kids, and a woman with a very active imagination reports "stranger danger" to the school and on social media, resulting in a police investigation and a news release by the school district. I have no problem with someone contacting the authorities when they have a suspicion of abuse or neglect. It's required. Let them do their job. What is not required, and what shouldn't happen is plastering these suspicions all over social media in a way that can cause hysteria and witch hunts. But some folks' attention-seeking is easily justified as long as it's about making the children's safety their "upmost" [sic] priority.

Advanced Placement (AP) U.S. History is a course designed by the College Board for high school students that mirrors curriculum commonly taught in college. At the end of the course, students are able to take the AP exam, and if they pass, they get college credit. In our last update, we mentioned some controversy because conservatives think the AP curriculum leaves things out. Here is the College Board's curriculum framework for AP U.S. History. Here's a paragraph I wanted to share:


The curriculum framework that follows is just that — a framework for conveying the content and skills typically required for college credit and placement. In order for teachers to have flexibility in how they help students develop these skills and understandings, the framework is not a curriculum and thus does not consist of a list of the historical content (names, events, dates, etc.) that teachers will choose for classroom focus. Instead, the framework consists of four components, each described below. The result is a course that prepares students for college credit and placement while relieving the pressure on AP teachers to cover all possible details of U.S. history at a superficial level.


The curriculum framework does not focus on providing particular names, dates, or events, but does in some cases provide examples - only where teachers reviewing the framework thought that it might be helpful. This has apparently cause a lot of confusion at best, and purposeful demagoguery at worst. The framework document itself explains why Black Panthers are specifically listed as an example, and Martin Luther King, Jr. is not:


3. Gray boxes containing possible examples were inserted in the framework only where teachers reported uncertainty regarding what content they might choose to teach for a particular concept. These boxes indicate content that is relevant for a particular concept, but this content is illustrative —
not mandatory.

When the new framework was first reviewed by AP U.S. History teachers, they indicated that it would be useful to provide examples for teaching some of the concepts. For most concepts, AP U.S. History teachers know exactly what figures, events, and sources they will focus on, but for others, they asked that the framework provide suggestions. Gray boxes were inserted only for concepts for which teachers indicated a need for ideas. For example, AP teachers reviewing the concept outline clearly identified which concepts called for inclusion of Civil Rights leaders such as Martin Luther King, Jr. and Rosa Parks, but they were uncertain what examples might be effective for the teaching of Concept 8.2.III.C (attacks on postwar liberalism). Therefore, the Committee inserted a gray box for that concept, suggesting the examples of Students for a Democratic Society and the Black Panthers. In no way does this signal that it is more important to teach the Black Panthers than Martin Luther King, Jr. Rather, this gray box signals that AP teachers were already confident in their inclusion of King and Parks elsewhere in the outline, but uncertain where they might choose to include the Students for a Democratic Society.


A fund has been set up to help Aide Fink's family. She was shot and killed by her husband in Flower Mound last week.

Why yoga pants are incredibly dangerous to today's youth

I-35 Traffic Near FM 407 to shift

A former United Methodist minister reveals some things about scripture that most pastors would not teach. I share this not so much to convince you of anything, but because I think it's a good read, and that when one reads things that challenge beliefs, it can be helpful in refining those beliefs. For me, although I count myself as a believer, I no longer believe that scripture is the infallible, literal truth, because you just can't explain away these types of conflicts without violating occam's razor.

Governor Perry's lawyers say his indictment should be dismissed because they do not think the special prosecutor's swear-in paperwork was completed. The prosecutor says he was sworn in, and his form is signed by the judge who appointed him. What does this say about Perry's defense on the merits?

From Western Days - The Ghost Horse Dancers:

Comments? - Rating: 0.00 (0 votes) -